Vertical Sand Slurry Sump Pump, Submersible Pit Pump, China Industrial Slurry Pump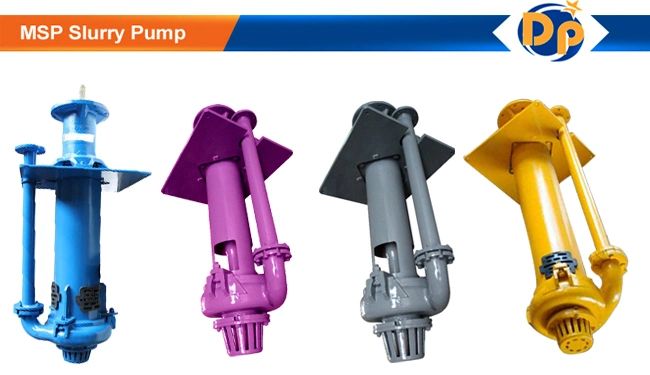 Product Presentation
-
MSP heavy duty sump pumps are vertical, shaft driven centrifugal slurry pumps designed for transferring abraisive and high density slurries from sumps, pits and other submersible sources.

-Models are available in sizes ranging from 40mm to 250mm discharge and are capable of flow rates from 5 to 350 litres per second (79-5540 USGPM) at heads of up to 40 metres (130ft). The heavy duty design of the MSP pumps allows the passage of large particles with a diameter of up to 50mm.

-Pumps will continue to operate even when the top inlet is not submerged, allowing the liquid level to to be lowered to the bottom of the sump or pit. Suction extension pipes of up to 2metres in length can be added to the bottom inlet of the pump to extend the pumping depth.

-Designed as a fixed installation the MSP provides reliable pumping performance with minimal maintenance requirements and simple servicing.
Feature
The standard MSP pumps feature a cantilevered shaft which is up to 2400mm long. The cantilevered shaft means that there is no shaft sealing requirement and the drive end bearings do not come into contact with any pumped product. This reduces the risk of bearing failure and extends the wear life of the pumps.



HEAVY DUTY WET END


Wet end components are manufactured from high quality 27% chrome white iron or rubber coated steel for exceptional wear resistance and service life with minimal corrosion. The heavy duty design can pump high density and abraisive slurries and the large passages of the impeller allows the transfer of large particles without blockages in a wide range of mining, processing and heavy industrial applications. Wet end stub shaft options are available to suit severe duty applications.



COLUMN AND DISCHARGE PIPES


Column and discharge pipes are available in a range of materials to suit the requirements of operators. Standard options include mild steel and rubber lined mild steel. Composite options are available.



VERSATILE DRIVE OPTIONS


MSP pumps can be directly driven using electric motors or belt driven with either set speed or variable speed operation.



REMOVABLE STRAINERS


MSP pumps feature rubber or cast iron upper strainers and cast iron lower strainers to prevent blockages. The strainers are easily removed for servicing or replacement.



"L" MODELS EXTENDED SHAFT


The extended shaft "L" model features column bearings and shaft seal which further extends the pumping depth and enables the transfer of slurries from deeper sumps and pits.
Application
The MSP Heavy Duty Sump Pumps are capable of providing reliable and efficient performance for the transfer of abraisive and high density slurries from sumps, pits and tanks in a wide range of mining, processing and heavy industrial applications.


MSP/MSP(R) Sump Pump Clean Water Performance Table

TYPE
Allowable
Mating
Max
Power
Material
Range of Performance
Impeller
Liner
Impeller
Capacity (Q)
Head(H)
Max.Eff
(%)
Speed
(r/min)
NO. of
Vanes
Impeller Diameter
(mm)
(m³/h)
(L/s)
(m)

40PV(L)-MSP

15

M

M

19.44-43.2

5.4-12

4.5-28.5

40

1000-2200

5

188

40PV(L)-MSPR

RU

RU

17.28-39.6

4.8-11

4-26

40

1000-2200

5

188

65QV(L)-MSP

30

M

M

23.4-111

6.5-30.8

5-29.5

50

700-1500

5

280

65QV(L)-MSPR

RU

RU

22.5-105

6.25-29.15

5.5-30.5

51

700-1500

5

280

100RV(L)-MSP

75

M

M

54-289

15-80.3

5-35

56

500-1200

5

370

100RV(L)-MSPR

RU

RU

64.8-285

18-79.2

7.5-36

62

600-1200

5

370

150SV(L)-MSP

110

M

M

108-479.16

30-133.1

8.5-40

52

500-1000

5

450

200SV(L)-MSP

110

M

M

189-891

152.5-247.5

6.5-37

64

400-850

5

520

250TV(L)-MSP

200

M

M

261-1089

72.5-302.5

7.5-33.5

60

400-750

5

300TV(L)-MSP

200

M

M

288-1267

80-352

6.5-33

50

350-700

5

610
Note: "M": Wear-resistant Alloy. "RU": Rubber
Material
| | | |
| --- | --- | --- |
| Description | Standard Material | Material Options |
| Shaft | 4140 Mild Steel | Available on Request |
| Bearing Housing | Cast Iron | |
| Column | Mild Steel | |
| Upper Strainer | Rubber | Cast Iron |
| Lower Strainer | Cast Iron | |
| Back Liner | 27% Chrome White Iron | |
| Pump Casing | 27% Chrome White Iron | Rubber Lined White Iron |
| Impeller | 27% Chrome White Iron | Rubber |
| Discharge Pipe | Mild Steel | Rubber Lined Mild Steel/ Composite |
| Adaptor Plate | Mild Steel | |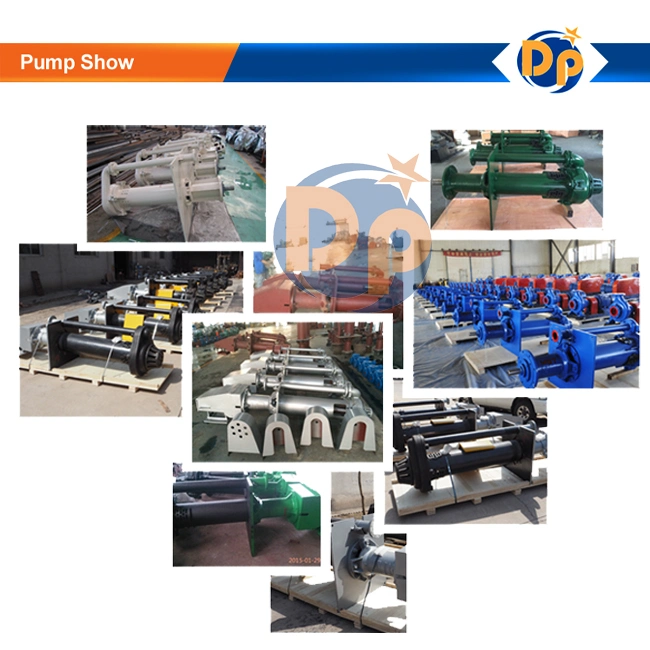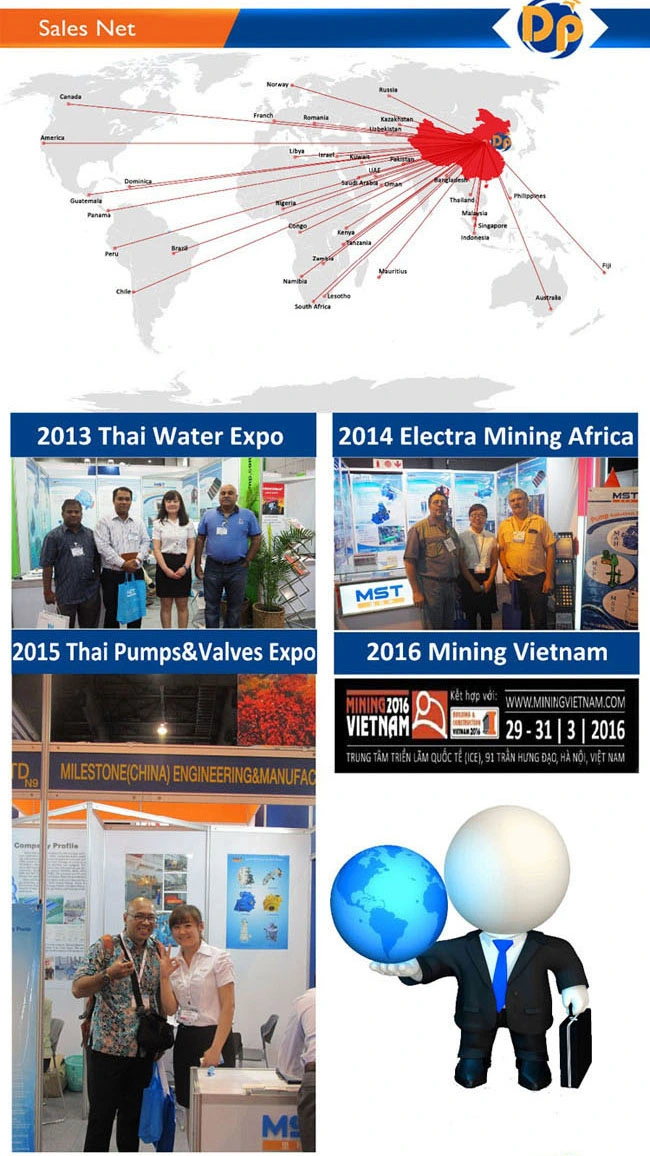 FAQ
A: What kind of company you are?
Q: Shijiazhuang Depon Pump Company is professional manufacturer in pumps. After accumulation and development of many years, we have formed a complete system of pump design, selection, application, manufacture, marketing and maintenance. We have passed CE, SGS certificate. Our customers are at home and abroad. Hope to coorperate with the worldwide friends.

Q: What's your MOQ?
A: Trial sample order is OK.

Q: What are your payment terms?
A: T/T, L/C, D/P, D/A or as customer required

Q: How about the warranty?
A: One year warranty for pumps, it depends on other pump working condition details.

Q: What is the delivery time?
A: 7-30 days according to customer quantities.

Q: Can you do OEM brand?
A: Yes, Welcome.

Q: What information should I offer to get pump solution?
1, Head: m
2, Flow: m3/h
3, Max Solid size: mm
4, Particle shape (smooth or sharp):
5, Medium pH level:
6,Specific Gravity of the Medium:
7, Temperature:
8, Drive type:
9. Power supply: Electric or Dlesel
10, Voltage and Frequency of the Motor:
Welcome inquiry!
Grace
Liu
Tel:
+86(312)6795175
Fax:
+86(312)3085385
Mobile
+86 181 3271 1119
Looking Forward To Working With you , Contact Us Now!