SG
Series Introduction
:
SG series is single casing horizontal slurry pump and also named as gravel pump, sand pump and d
redg
ing
pump, which
is designed specifically for continuous pumping of extremely aggressive slurries, with a wide particle size distribution. Capable of handling large particles at consistently high efficiency results in low cost of ownership. The large volume internal profile of the casing reduces associated velocities further increasing component life.
Application:
Gravel sand pumps are widely used in
dredging, mining
, de-watering, water treatment,
coal
washing, mill, cyclone feed, tailing
, power, building material
...etc.
various
industrial
sites. For different duties, pump
may be
named as High head pump, High pressure pump, Mineral processing pump,
Mill
discharge
slurry Pum
p,
Booster pump
, F
eeding pump
, T
ailing pump
,Transfer pump
Thickner Underflow Pump
, De-watering screen pump, Pressure pump, Concentrate pump
Features:
1.
Single casing, cantilevered, horizontal pump
2.
Wide passage , good performance of NPSH, anti-wearing and anti-corrosion, and high
3.
efficiency,
Specification:
D: 100-400mm
Q:36-5040m3/h
H:5-80m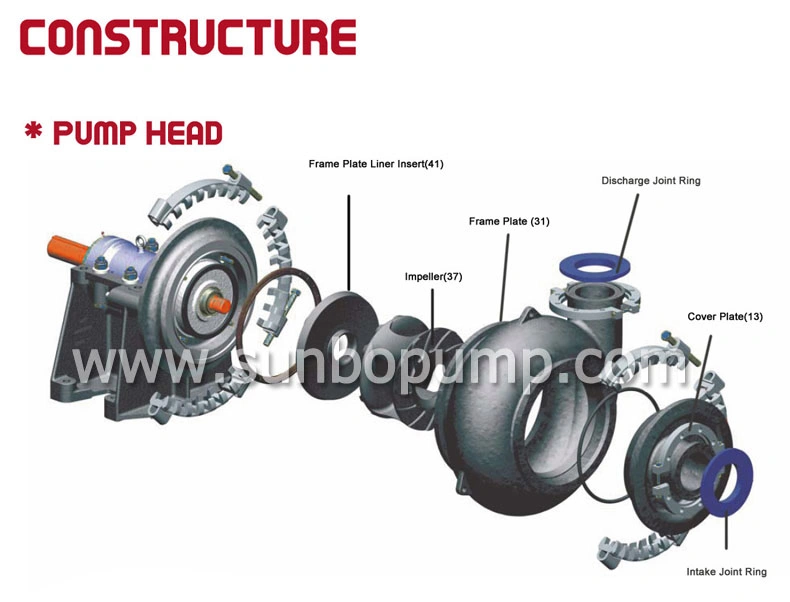 Performance Sheet:
Pump




Model

Allowable




Max.Power




(KW)

Clear Water Performance

Capacity Q

Head




H(m)

Speed




n(r/min)

Max.Eff.




η%

NPSH




(m)

Impeller




Dia.

m

3

/h

l/s

100D-SG

60

36-250

10-70

5-52

600-1400

58

2.5-3.5

378

150E-SG

120

126-576

35-160

6-45

800-1400

60

3-4.5

378

200F-SG

560

216-936

60-260

8-52

500-1000

65

3-7.5

533

200S-SGH

560

180-1440

50-400

24-80

500-950

72

2.5-5

711

250G-SG

600

360-1440

100-400

10-60

400-850

65

1.5-4.5

667

250T-SGH

1200

288-2808

80-780

16-80

350-700

73

2-10

950

300TU-SG

1200

576-3024

160-840

8-70

300-700

68

2-8

864

300G-SG

600

720-3600

200-1000

18-44

300-500

70

3-9

1016

350TU-SGH

1200

324-3600

90-1000

26-70

300-500

72

3-6

1270

350TU-SG

1200

720-4320

200-1200

12-48

250-500

72

3-6

1067
Project Case Show: