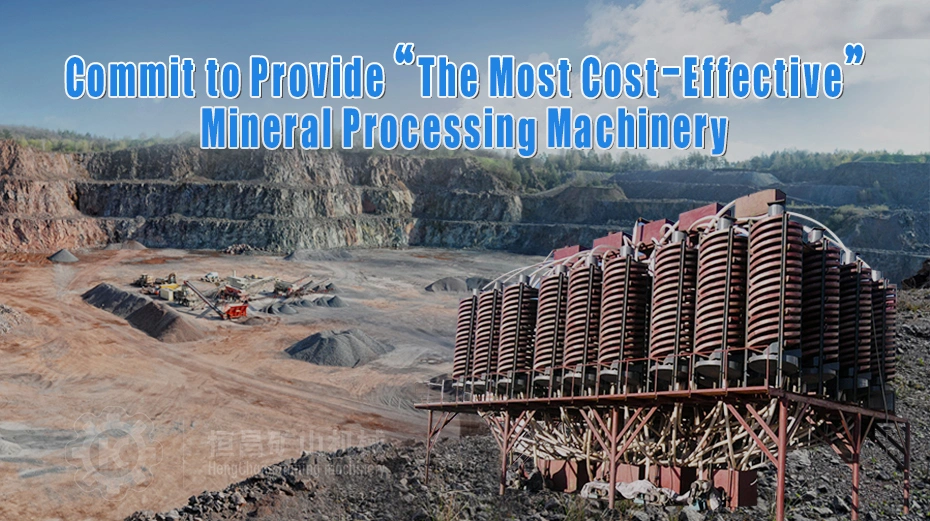 98% High Recovery Mineral Separator Equipment Spiral Concentrator for Mineral Washing Process
1. Spiral Chute Introduce
Mineral Separator Equipment
is also called spiral chute or spiral chute separator, is the best equipment in mining and ore dressing industries, which is often applied to sort materials with size 0.3 - 0.02 mm, such as ilmenite, chromite, pyrite, zircon, rutile, monazite, phosphate, tungsten ore, tin, tantalum, niobium ore and other non-ferrous metals, precious metals and non-metallic minerals.
2. The working principle of the MineralSeparator Equipment

:
Mineral Spiral Equipment

is working under the the force of water flow, gravity, inertial centrifuge and friction. Slurry is pumped to the top of the spiral , and it enters a feed distributor that evenly distributes the feed to each spiral concentrator. The design and shape of the spiral make it work, when combined with gravitational acceleration. As the slurry travels the spiraling path down the spiral, mineral grains settle and start sorting according to size, density and to a lesser extend shape. Low density particles are carried with the bulk of the water towards the outside of the spiral , while particles with the greatest density migrate towards the inside of the spiral.
3. Usage and Application Fields of

Mineral Separator Equipment
The

Mineral Separator Equipment

is

a gravity equipment. With the water, action of gravity friction force, minerals would be separated by its gravity difference. Then we could get heavy, middling and light products.It is made of the fiberglass lined with wear-resistant polyurethane and corundum cover; the advantages are light, moisture proof, anti-rust, wear proof,anti corrosion and no noise,properly suitable for the different feeding particle sizes and grades. It is the domestic advanced level, the new high effective equipment.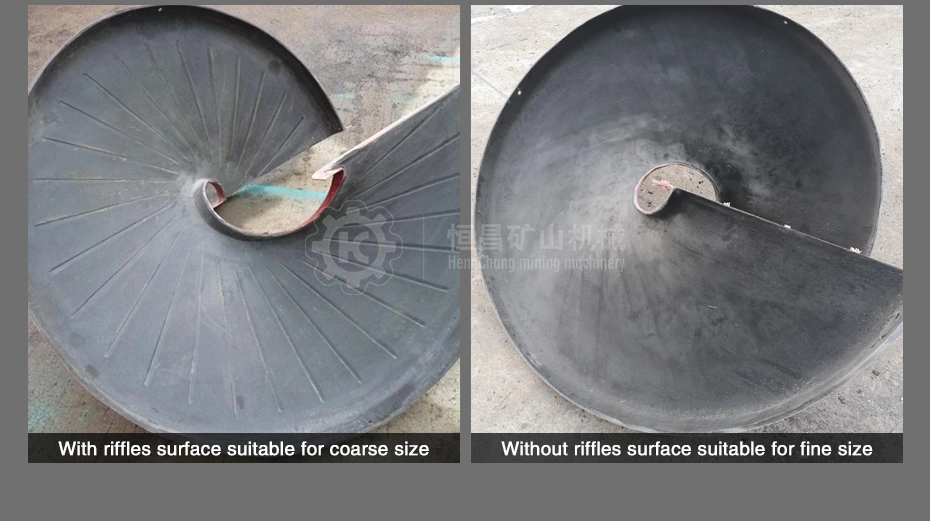 4. Features & Benefits of

Mineral Separator Equipment
-Reasonable structure and small occupation area.
-High recovery, high efficiency, and precise separation
-Light in weight, rust and corrosion resistant.
-Simple installation and Minimal maintenance requirements
-Low operating cost and long operating life.
-Reliable running with minimal operator attention.
-Strong adaptability to fluctuation of feeding amount, density, size and grade.
5. Structure of
Mineral Separator Equipment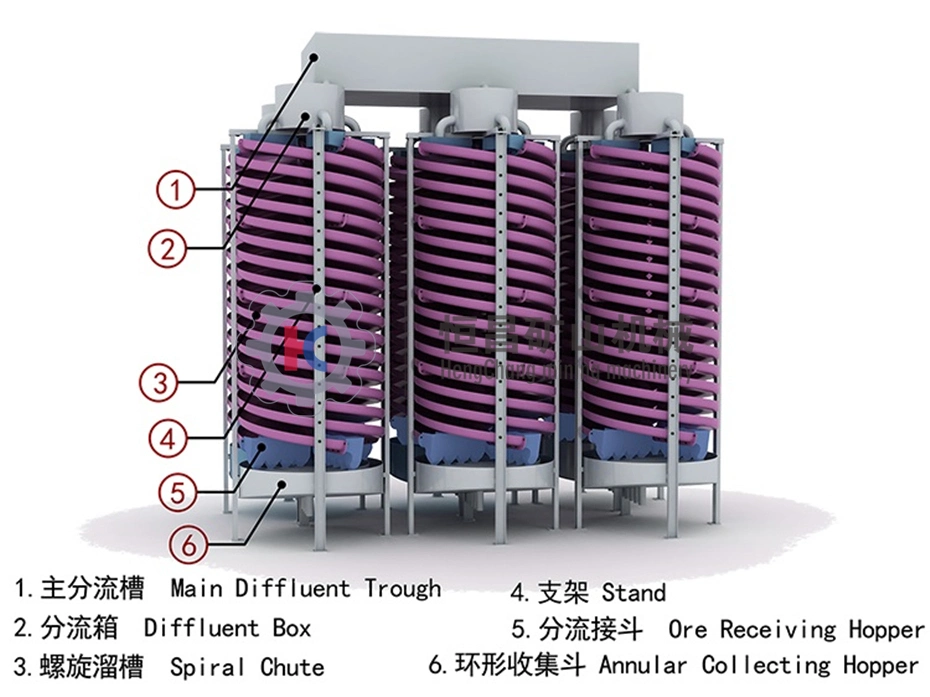 6. Technical Parameter List of
Mineral Separator Equipment
| | | | | |
| --- | --- | --- | --- | --- |
| Model | BLL2000 | BLL1500 | BLL1200 | BLL900 |
| External diameter (mm) | 2000 | 1500 | 1200 | 900 |
| Inner diameter (mm) | 360 | 250 | 220 | 180 |
| Screw distance (mm) | 1200 | 900-675 | 720/540 | 540/360 |
| Ratio (scroll distance/diameter) | 0.6 | 0.6 | 0.6/0.45 | 0.6/0.4 |
| Transverse obliquity (°) | 9° | 9° | 9° | 9° |
| Star | 42770 | 42770 | 42770 | 42770 |
| Turn | 3.5 | 4 | 42830 | 42830 |
| Feeding size (mm) | 0.4-1 | 0.03-1 | 0.03-0.3 | 0.03-0.3 |
| Feeding thickness (%) | 20-45 | 30-45 | 30-50 | 30-50 |
| Processing capacity(t/h) | 15-40 | 42963 | 42831 | 42769 |
| Height (mm) | 6.6-8 | 5.5 | 5.23 | 3.2 |
7. Spiral Chute Popular models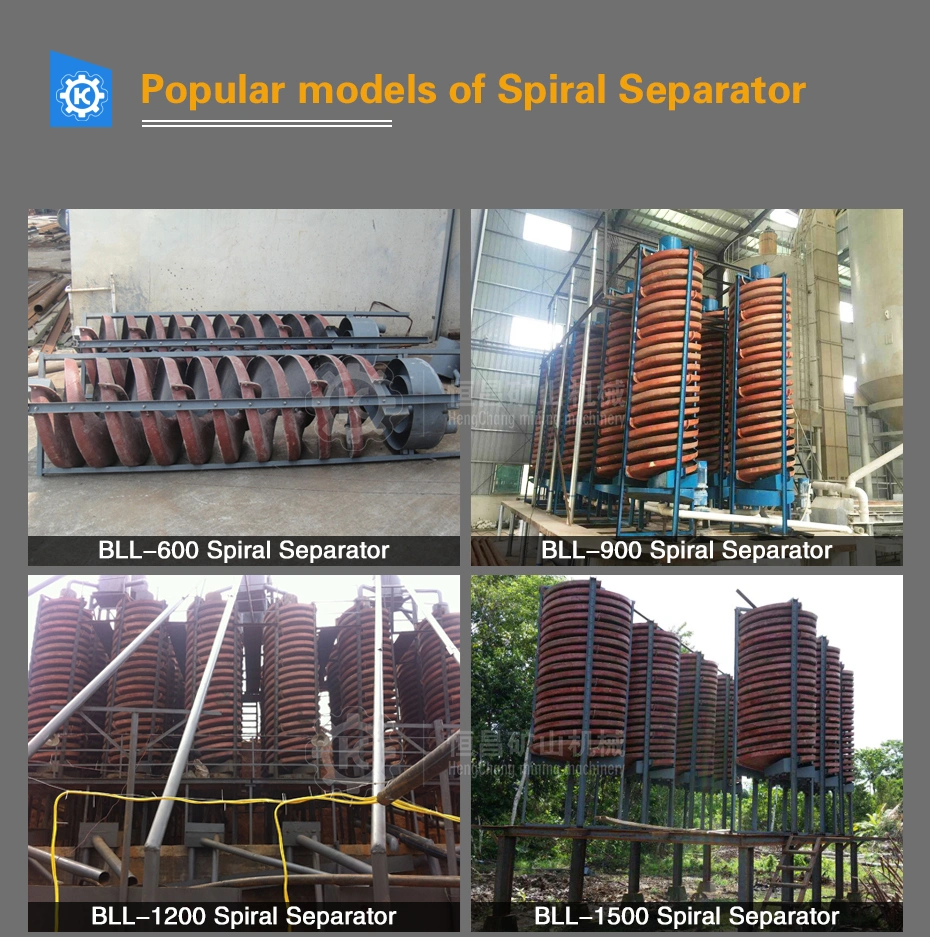 8. Spiral chute Delivery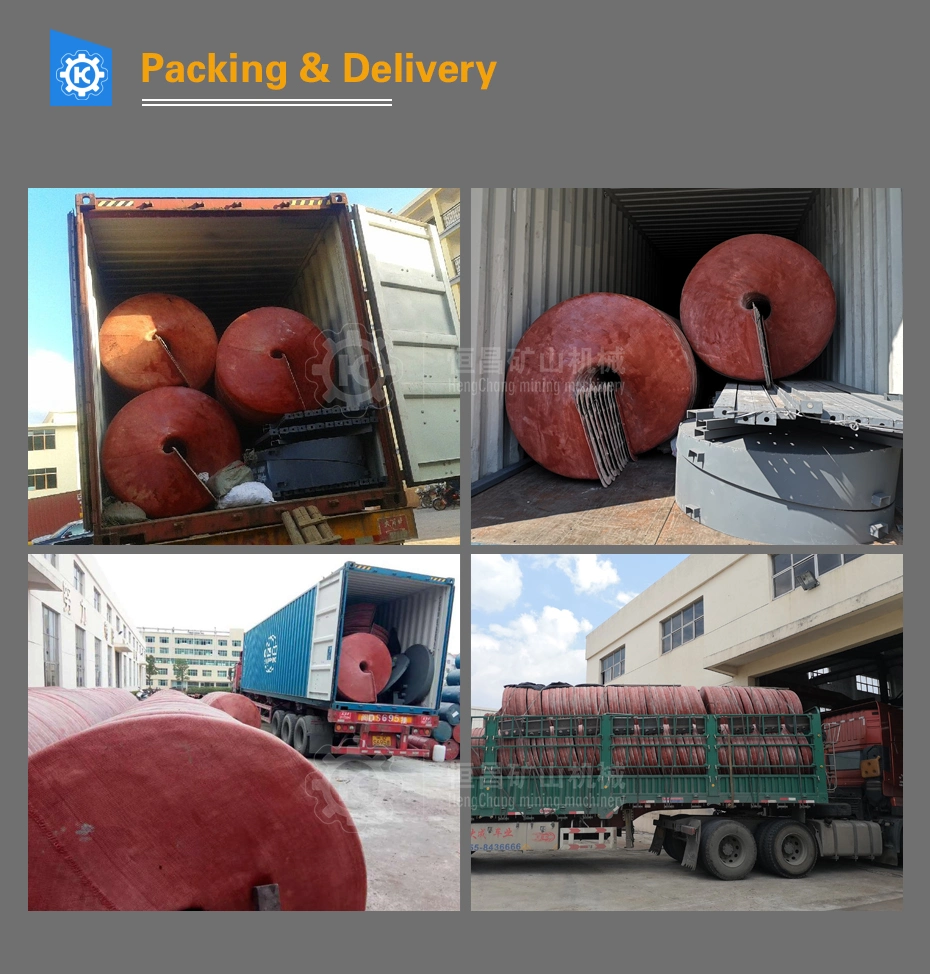 9. Spiral Chute Successful Case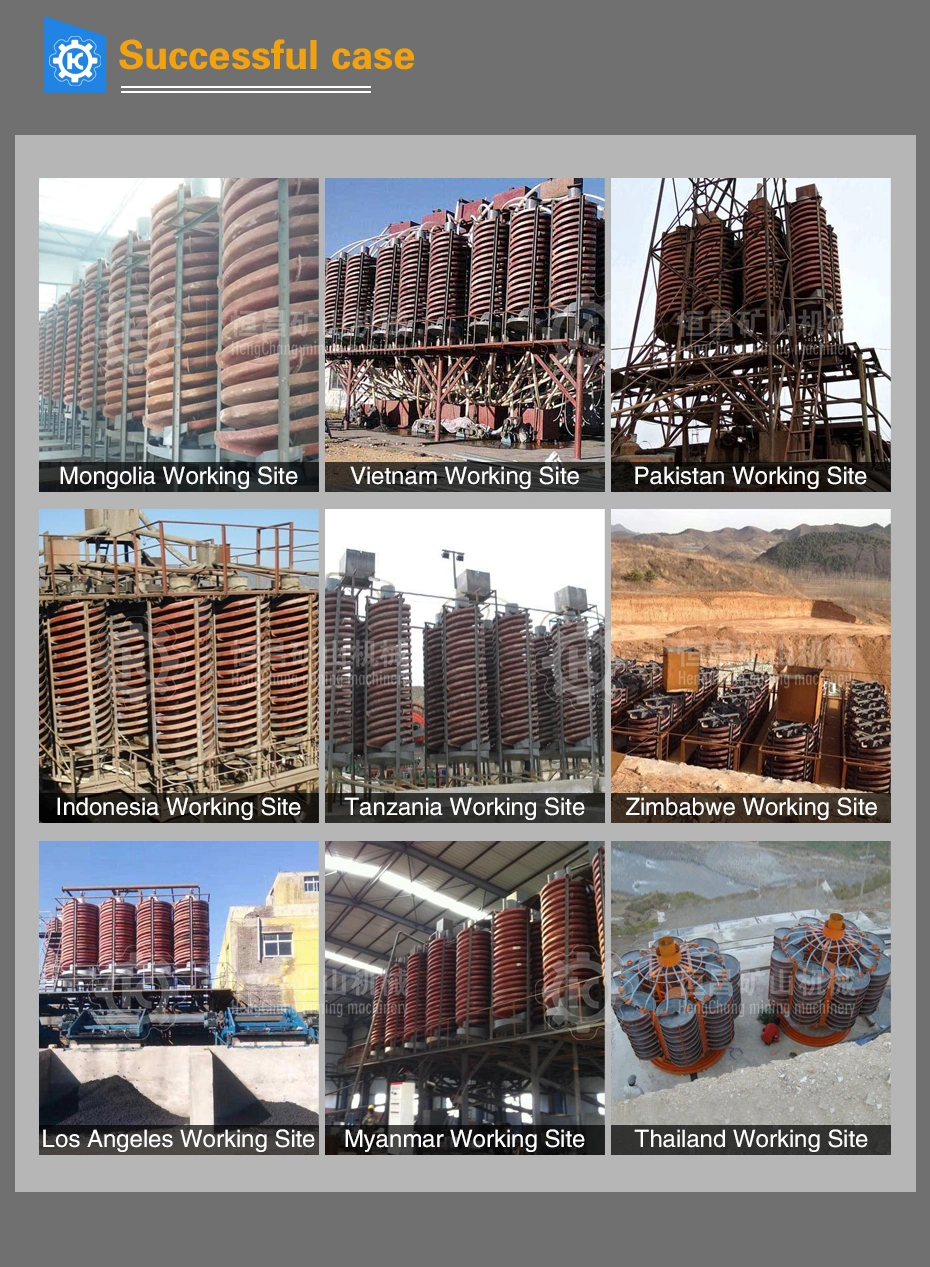 10. Related Products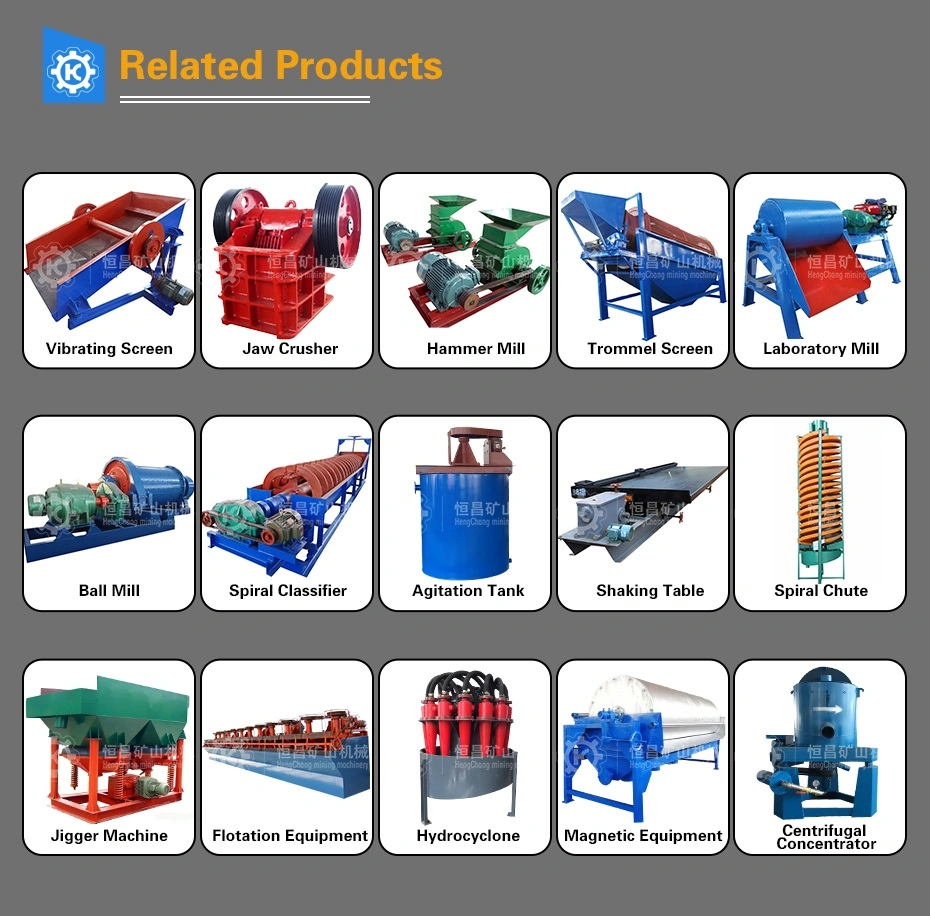 11. About US
Welcome to Visit Our Factory in Your Free Time:
Jiangxi Hengchang Mining Machinery Manufacturing Co., Ltd. is located in No.3 Chuangye Road. Guzhang In dustrial Park. Shicheng County. Ganzhou City. Jiangxi Province. China.Our company is engaged in the mineral processing equipment research, development, design and production for many years history, has accumulated rich experience in design and production. Enterprise in mineral processing equipment industry has had a positive effect, set up the good reputation. And mainly the manufacture of the products like as Shaking table. Flotation equipment. Crushing equipment. Magnetic separator. Screening equipment. Classifying equipment. Agitation tank, Feeding equipment. Gravity separation equipment. Wet separation equipment. Spiral chute. Saw-tooth wave jig and Diaphragm Jig. Grinding equipment. Ball mill. Slurry pump. Centrifugal pump, Conveying equipment.
We manufacture various types of mineral processing machinery and equipment according to our customers' requirements. Our products are widely used for sorting gold, silver, copper, iron, tungsten,lead. zinc. tin. molybdenum, nickel, tantalum, niobium, manganese ore, coal, monazite, rutile,diamonds, other precious metals and precious metals mine, and for the flotation colored, black metal,precious metals and other minerals. And we have export qualifications, our products sell well all over the world for several years, especially exported to Brazil. India. Indonesia.South Africa. Somalia, Philippines. Malaysia. Sudan, Nigeria. Iran, Russia, Ghana. Kazakhstan Kyrgyzstan.Cambodia,Vietnam,Korea,Mongolia and other countries.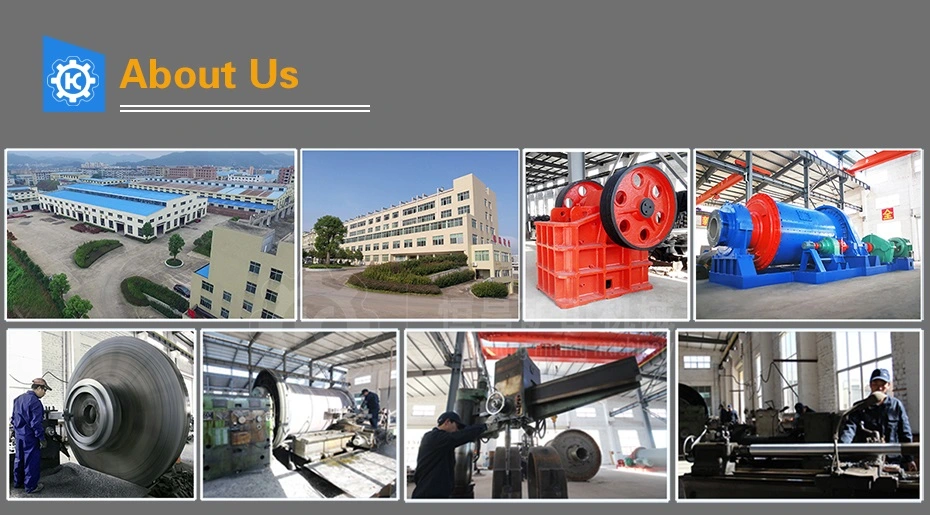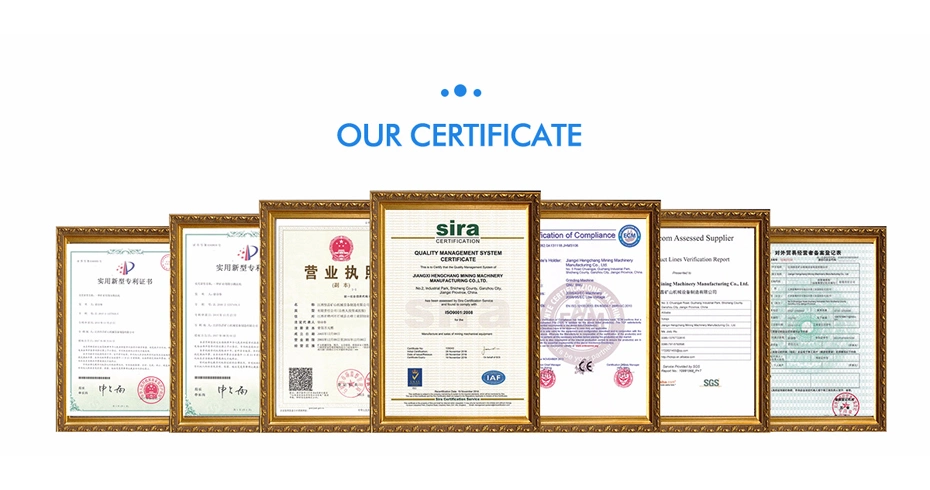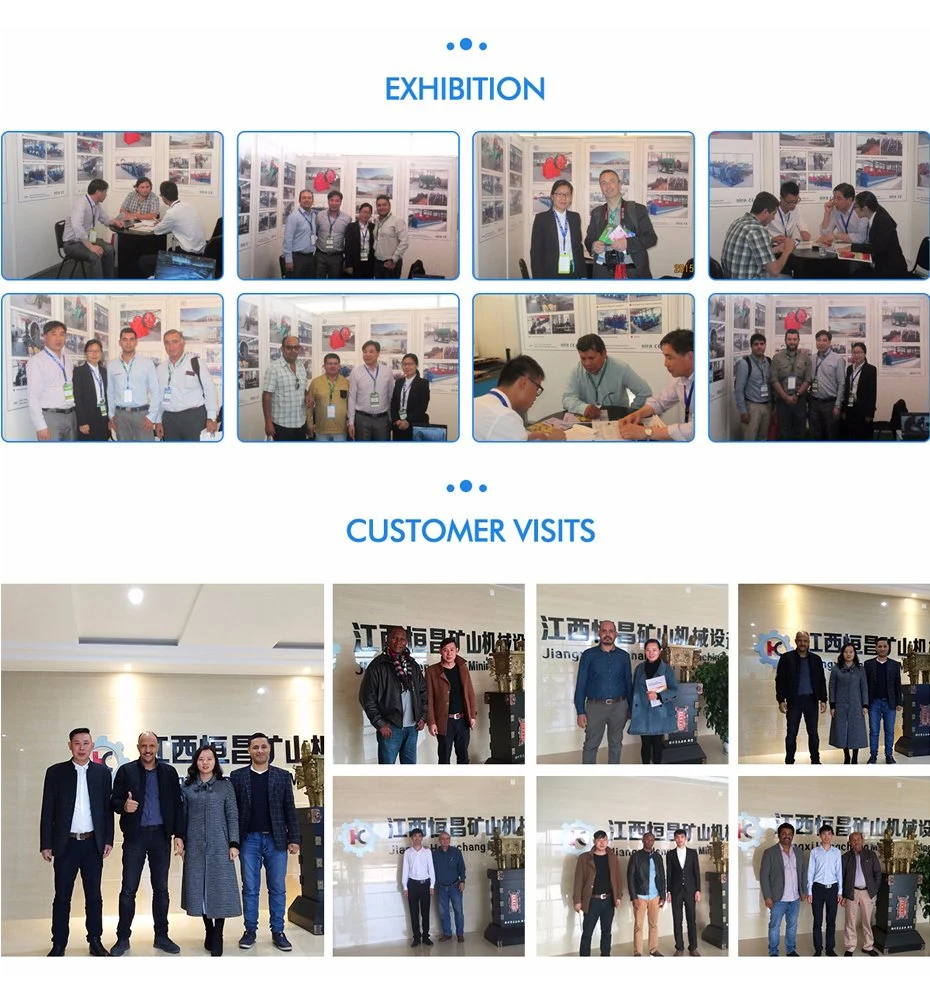 12. Our service:
1.Pre-sale services:
(1)Select equipment model;
(2) Design and manufactLire products according to clients' special requirement;
(3)Train technical personnel for dients.
2.Services during the sale:
(1) Pre-check and accept products ahead of delivery;
(2)help clients to draft solving plans.
3. After-sale services:
(1) Assist dients to prepare for the first construction scheme;
(2)Install and debug the equipment;
(3) Train the first-line operators on site;
FAQ
1. How long has Hengchang been in business?
Our business has been in operation since 1995. For over 20 years we have served the mining industry offering gold/coltan/tin/tungsten mining equipment
2. How long is the warranty period ?
The warranty for the main machine is 12 month. we also supply spare parts to customer.
3. What is the Salary of engineer ?
100 USD Per day, the air ticket, accommodation, should be beared by customer.
4. Where is Hengchang factory located ?
how about the transportation ? The factory is located in Ganzhou city. The Airport is
Huangjin Airport, which can directly flight to Guangzhou, Shanghai, Shenzhen, Beijing.
5. What is the leading time ?
For shaking table and laboratory mining equipment ,we can send out within 10 days;
For large mining equipment and customized machine, the lead time is 30-40 days.
6. What is the nearest Sea port ?
Xiamen Port, Guangzhou Port, Shenzhen Port
7. What is the trade terms ?
CIF,FOB ect is acceptable.
8. What normal mining procedures including?
A. Sampling and analysis of the sample. take enough sample from different location and depth, analysis the size distribution and element.
B. Engineer and geologist site survey. based on the analysis report at stage one, the geologist will determine the reserve and mining area. the engineer will consider the plant location and process flow.
C. Separation test. take samples to do separation test based on the process flow on stage Two.
D. Based on the result of testing, adjust the process flow if necessary.
E. Determine the capacity of the plant based on the quotation of plant and estimated output.
F. Place order and equipment production.
G. Plant design. ground clearance and basement building according to the design.
H. Plant installation and testing production.
I. Training and debugging.
9. What Information should customers give to us ?
In order to let we provide you with efficient & suitable quotation and assistance.
1). What type is the mining? Is it rock stone? or it is sand?
2). If rock stone,What is the general particle size(mm) of the raw ore?
3). What is the handling capacity(tons per hour) you plan to work with?
4).What is the elements of the raw ore? How much percent % of each minerals?