Mobile Gold Diamond Gem Mine Washing Plant Small Scale Alluvial Rock Placer Sand Tin Ore Wash Processing Clay Mining Mineral Process Separating Spiral Price



Our factory produce full sets mining equipments for processing gold, diamond, gemstone, coltan, chromite, zircon, rutile, magnetic iron ore, lead, zinc, tin, tungsten, copper, gem, titanium ore, rare earth, tantalum, niobium, chrome, etc..



***Successful Project***
Liberia 300 TPH Clay Alluvial Diamond Washing Plant:
Mining condition: Clay alluvial diamond mine.
This plant's process flowchart is as below.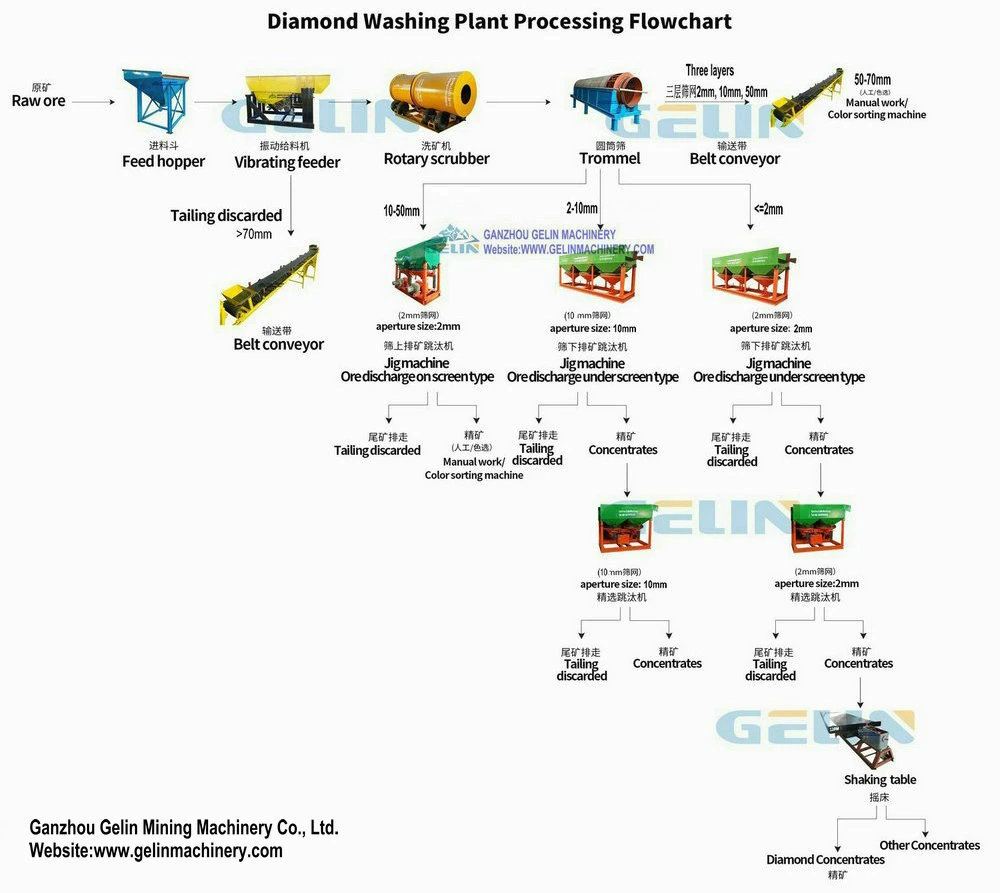 Full set diamond equipments included as below,
Grizzly feeder hopper, Quantity:1 set;
Vibrating feeder, Quantity:1 set;
Rotary scrubber, Quantity:1 set;
Trommel screen, Quantity:1 set;
Belt conveyor, Quantity:2 set;
Rougher jigger, Quantity:8 sets;
Clean concentration jigger, Quantity:4 sets;
Shaking table, Quantity:4 sets;
Water pump, Quantity:1 sets.

After using our equipments can get high quality diamond.


Ganzhou Gelin can provide the diamond washing plant capacity as per requested. Handling capacity is from 2TPH to 500TPH or bigger, and recommend the most effective washing and separation machines as per mining conditions.

Dense Media Separation (DMS) Diamond Separating Plant
Diesel generator plant, electrical reticulation,
Workshops, offices and mining camp,
Primary PE jaw crusher,
Secondary PEX crusher, or, cone crusher,
Double roller crusher,
Rotary Scrubber Trommel Screen,
High frequency vibrating screen,
Conventional fines and course DMS plant,
Final integrated x-ray recovery house and hand recovery and upgrade,
Material reticulation of conveyors, screens, bins,
Thickner plant,
Tailing dams,



***Successful Project***
Cote d'Ivoire 150 tons per hour alluvial gold processing plant:
---Product application---
1) Alluvial gold, placer gold, gold sand;
2) River dirty gold with clay, Clay alluvial;
3) Desert sand, gold tailing...
4). Other type mining washing and classify and separation
*******
AS per different mining condition, we design the flowchart as below,
A). Washing trommel+Centrifugal concentrator+Shaking table;
B). Washing trommel+Jig machine(Jigger)+Shaking table;
C). Washing trommel+Sluice box with grass mat(carpet).
D). Rotary scrubber trommel+Sluice box with grass mat(carpet).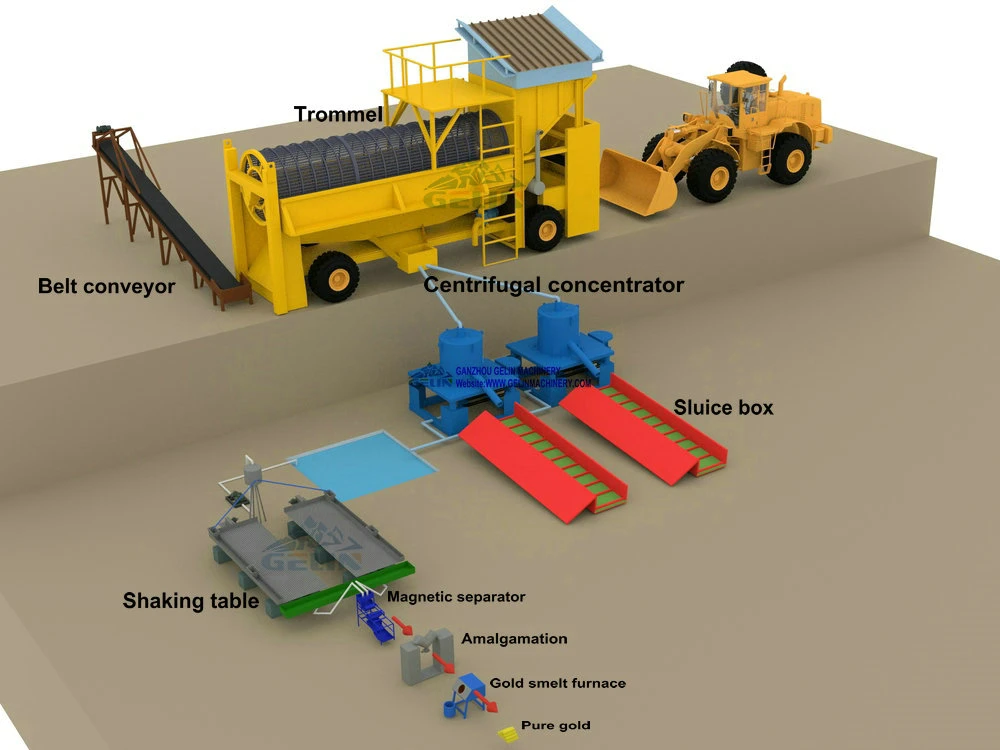 Full set gold processing equipments included as below,
Mobile type washing trommel with big grizzly feeder hopper, Quantity:1 set;
(Or, for clay alluvial: Rotary scrubber trommel, Quantity:1 set);
Belt conveyor, Quantity:1 set;
Rougher jigger, Quantity:2 sets,
Clean concentration jigger, Quantity:2 sets;
(Or, Knelson centrifugal concentrator, Quantity:2 sets);
Shaking table, Quantity:4 sets;
Sluice box, Quantity:2 sets;
Magnetic separator, Quantity:1 set;
Amalgamation, Quantity:1 set;
Gold smelt furnace, Quantity: 1 set.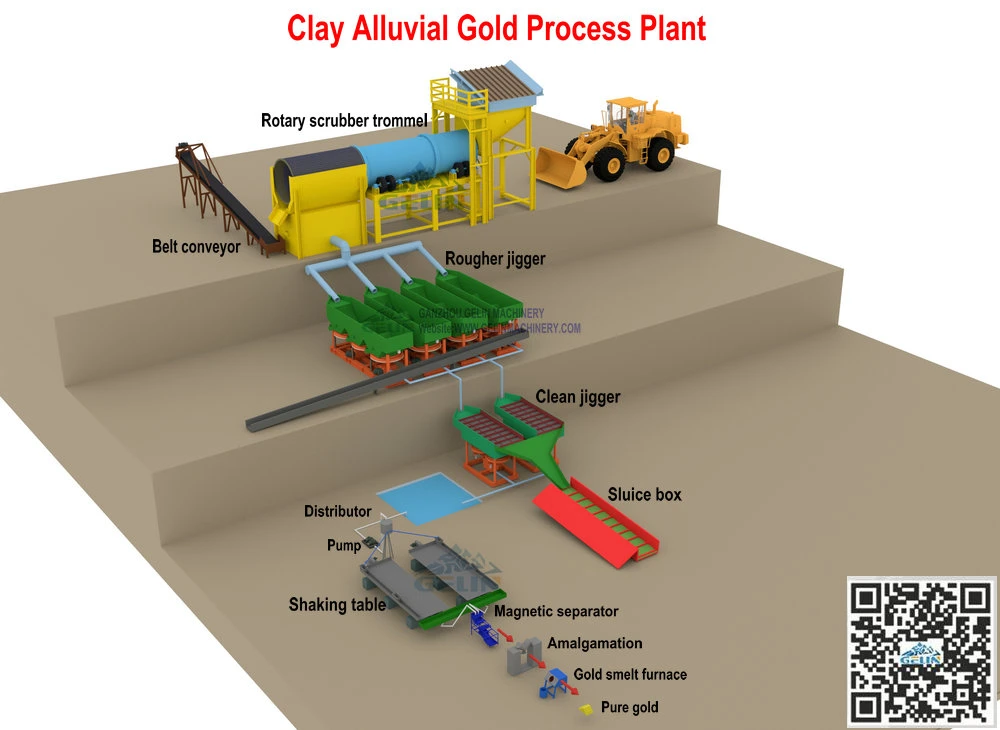 Processing steps of this plant:
The grizzly feeder hopper can remove big size stones before enter the washing trommel. The scrubber trommel washing machine is a good washing machine, which is especially effect for clay gold, Trommel screen is for not clay mining washing and classify. Jigger and Gold centrifugal concentrator is for gold concentration, in the same time to remove silica sand and no value light materials. Concentrate ore from jigger / centrifugal machine will go to shaking table for further clean concentration, magnetic separator is used to remove magnetic iron ore. Good gold bar can be get after use Gelin gold smelting furnace.
Cote d'Ivoire gold processing plant: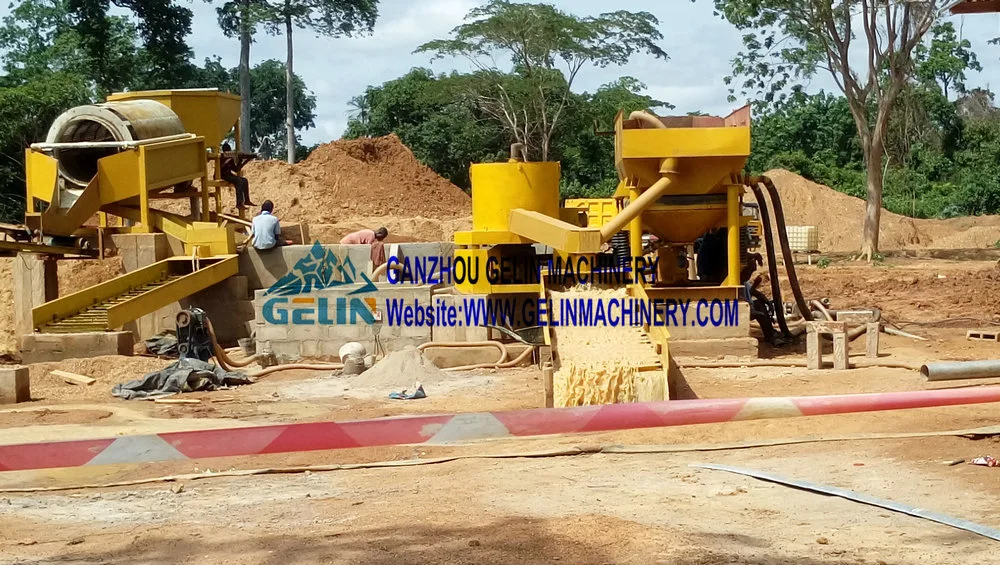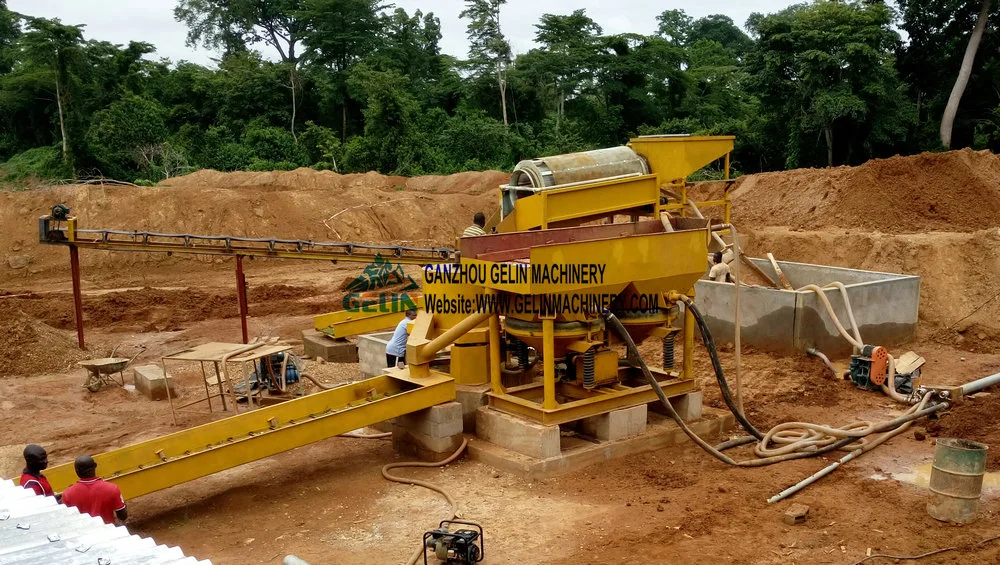 1). Trommel Screen
Working Principle:
Material feed into the hopper by excavator,high pressure water released and wash the mineral,then,mineral by forward into the drum.It is lifted up by the rotation and aerated as it fall back down.This finer material passes through the screen openings while the large material tumbles towards its eventually exit at the real of the drum.After that,the final mineral and water go through the sluice bow which is consist with gold grass mat.The no use mineral are washed out and the gold are catched by the gold grass mat. China supplier mobile screen river gold washing machine trommel
---Advantages---
♦Includes water pump, water pipe, diesel engine / electric motor, wheel, can be easy movable.Mobile with wheels, can free transport/move to other lace when finish the job. It is suit to small scale / large mine processing.
♦ Diesel engine / electric motor, can work in no power field.
♦ Bigger hopper,single / double layer screen designed.
♦ Water pump with water pipe release high pressure water.
♦ It is popular in African, Asian, South American due to its easy to move and easy to operate.
♦ It is low cost, miner just cost a little budget to buy one. Many miner came to our factory to buy it for their alluvial gold, river sand mineral, diamond mining.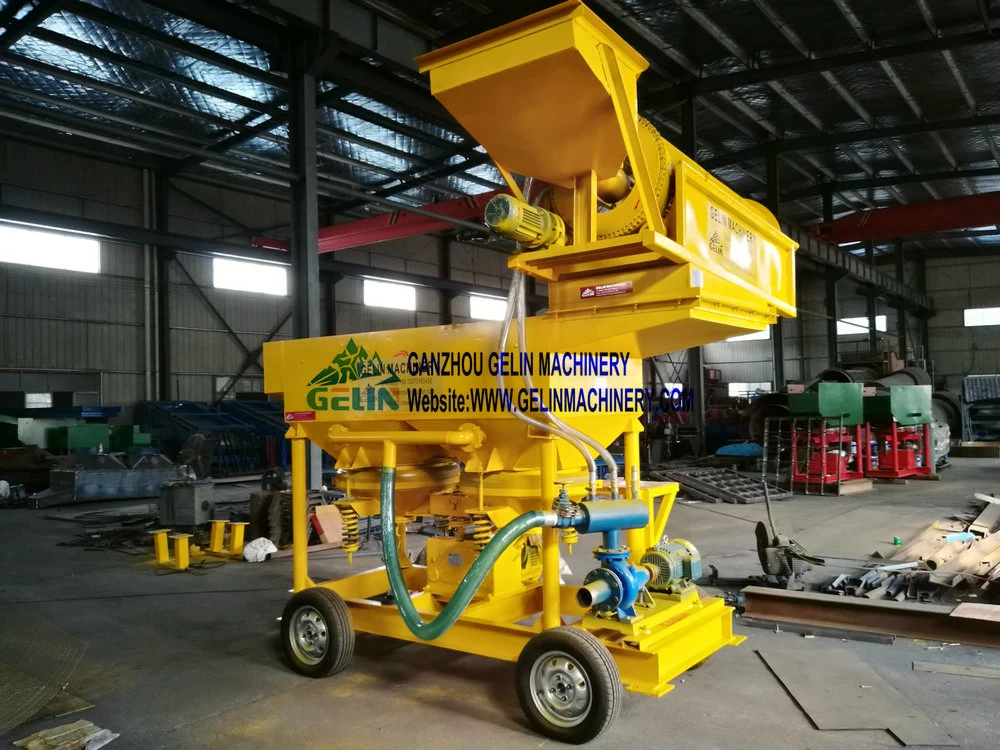 Technical Data of Trommel:
Model
Capacity (t/h)
Wheel
quantity
Water pump
& water pipe
Diesel engine
/ Electric motor
Drum
diameter
Drum
length
Screen size
Weight
(kgs)
GL510
5-15
4
include
diesel engine
/ electric motor
500 mm
1300
mm
<3-20
1200
GL615
10-20
4
include
diesel engine
/ electric motor
600mm
1500
mm
<3-20
mm
1500
GL715
20-30
4
include
diesel engine
/ electric motor
600mm
1500
mm
<3-20
mm
1500
GL815
30-40
4
include
diesel engine
/ electric motor
600mm
1500
mm
<3-20
mm
1500
GL1020
40-100
4
include
diesel engine
/ electric motor
1000 mm
2000 mm
<3-20
mm
2300
GL1225
100-160
4
include
diesel engine
1200 mm
2500 mm
<3-20mm
3000
GL1530

150-200
4-6
include
diesel engine
/ electric motor
1500 mm
3000 mm
<3-20
mm
4000
GL1545

200-300
4-6
include
diesel engine
/ electric motor
1500 mm
4500 mm
<3-20
mm
4500

GL1848

300-450
4-6
include
diesel engine
/ electric motor
1800 mm
4800 mm
<3-20
mm
6000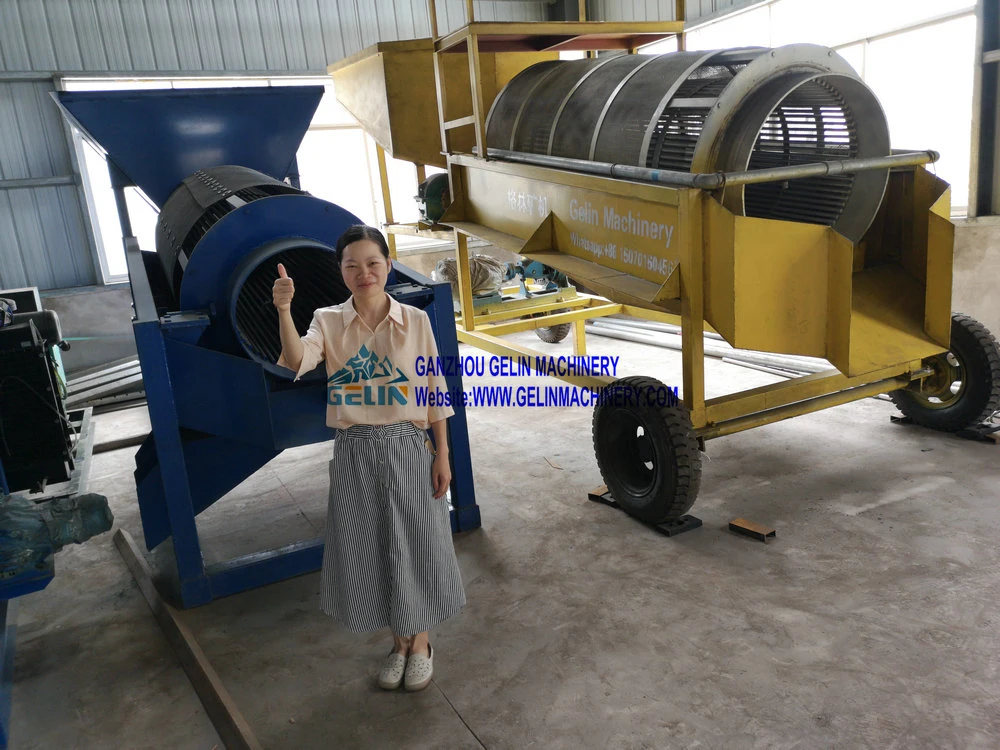 2). Rotary scrubber / Rotary scrubber Trommel
Suitable to wash clay and stickly alluvial mining, dirty stones.
Some clients are facing harsh mining environment of high density clays and mud, our G serious Rotary Drum Scrubber was born for washing out these enimies. Some times it coworked with auto washing belt to reach the best efficiency.
Gelin Drum Washing Machine, which is also named Drum Washing Machine, is the most advanced ore washing equipment at present in China. It is able to de-slime of the sand and stone, the drum inside is equipped with single or double layer round screen which can get 2 to 3 different size of sand stone products.
Rotary scrubber application: Tantalite mine, Gravel, clay gold mine, sticky mine, stone.
Mining clay gold processing machine rotary scrubber.
It is a mineral washing machine, designed to break up alluvial, gravels, clays and sand. It can accept material up to 230mm.
It is able to de-slime of the sand and stone, the drum inside is equipped with single or doublelayer round screen can get 2 to 3 different size of sand stone products, To which is applied pre-concentration of the materials contain mud, to promote the beneficiation index in the later steps and it is widely used to the washing of manganese, iron, limestone, tungstenore, silica and so on. The slurry material feeds into the drum where it is vigorously scrubbed, the soil matrix is broken up and the target mineral is released. The material is then screened through the rotating screen and waste is ejected. The screened material is then passed on to the concentrating modules for upgrading.
Features
Designed to break up alluvial gravels, clays and sand
High capacity and high power scrubbing
The long drum of the scrubber retains material for longer, more vigorous washing for complete separation
One high output electrical motor driving a gear system providing efficient torque
Adjustable rotary speed
The water with high pressure flushed the inwall of drum
Can accept material up to 230mm
Mechanical sealing of inlet chute minimal spillage when over feeding
Drive loads absorbed within the drive frame and pivoting drive frame design Foundations only have to support vertical load and are not critical for alignment ie minimal cost
Shell design less mass than conventional roller supported units installation craneage requirement reduced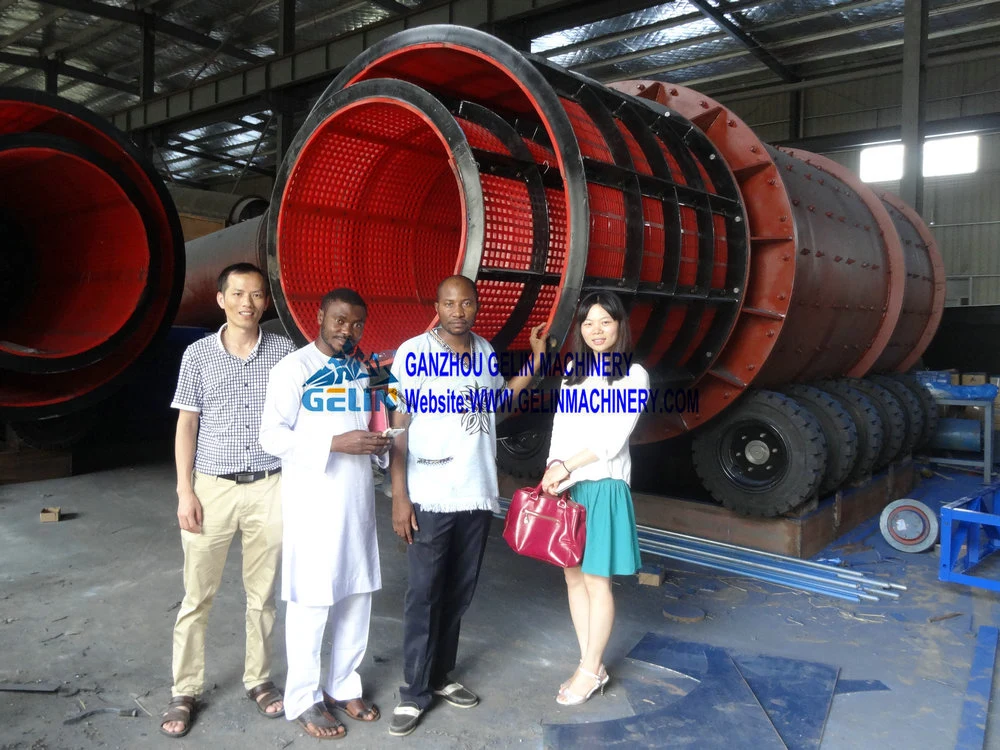 Technical data of Rotary scrubber trommel:
Model
Drum Size
(mm)
Screen size
(mm)
Rotation speed
(r/min)
Feeding size
(mm)
Water consumption
(M3/h)
Angle of inclination (°)
Water pressure
(Mpa)
Capacity (T/h)
Power (Kw)
Weight
(T)
G1030
Φ1000×3000
0.5-20
25-28
≤100
1.5-4
0.5-10
0.4-0.5
30-50
15
4.8
G1136
Φ1100×3600
0.5-30
25-28
≤100
1.5-4
0.5-10
0.4-0.5
40-60
15
5.2
G1230
Φ1200×3000
0.5-30
23-25
≤100
1.5-4
0.5-10
0.4-0.5
50-70
18.5
5.8
G1430
Φ1400×3000
0.5-30
20-23
≤150
1.5-4
0.5-10
0.4-0.5
60-80
22
6.2
G1545
Φ1500×4500
0.5-30
18-22
≤150
1.5-4
0.5-10
0.4-0.5
70-120
30
6.9
G1560
Φ1500×6000
0.5-30
18-22
≤150
1.5-4
0.5-10
0.4-0.5
80-130
37
8.3
G1845
Φ1800×4500
0.5-30
20-21
≤170
1.5-4
0.5-10
0.4-0.5
90-130
45
11.8
G1860
Φ1800×6000
0.5-30
20-21
≤170
1.5-4
0.5-10
0.4-0.5
100-140
45
12.8
G2060
Φ2000×6000
0.5-30
19-20
≤210
1.5-4
0.5-10
0.4-0.5
120-160
55
14.8
G2265
Φ2200×6500
0.5-30
19-20
≤230
1.5-4
0.5-10
0.4-0.5
160-180
55
16.5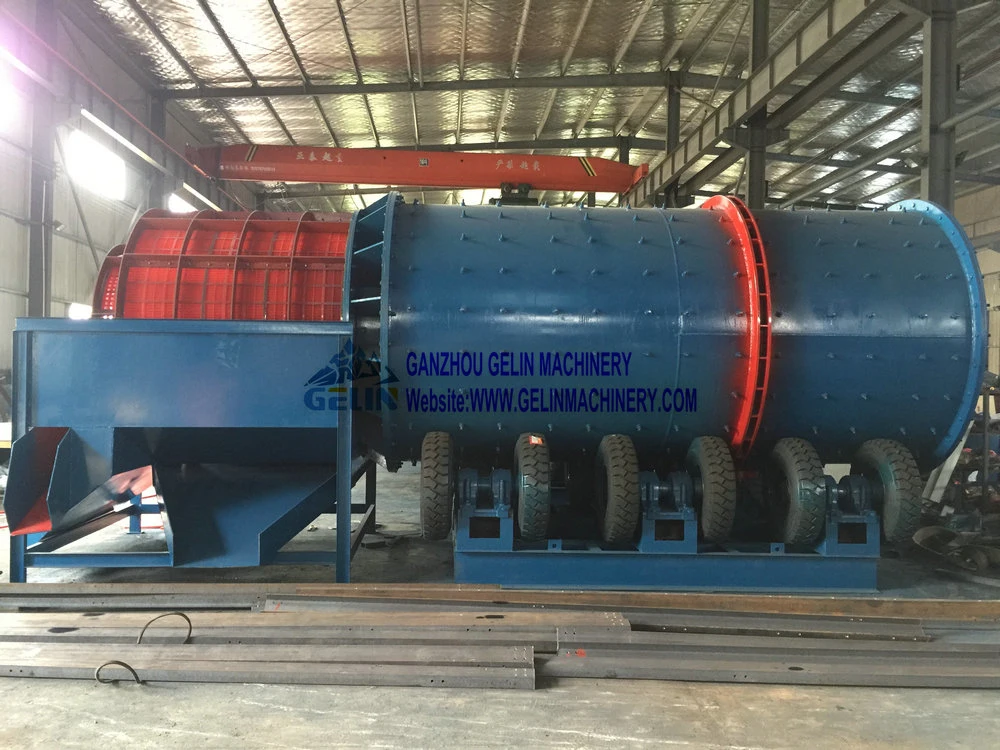 The drum shell is made of thick steel, more important, rubber line in side of the rotary drum, which can protect the big stones impact the drum shell. This design let the rotary scrubber more long working life.
Spiral Chute Separator
Vietnam 500 tons per hour titanium ore beneficiation project.

Raw ore main contents :
Ilmenite, Rutile, Zircon, Tin, Hematite, Magnetite Iron ore, Quartz, Monazite, Silica sand, etc.
Customer' target: get the high grade titanium ore 50% above, in the same time, get by-products tin and Zircon, Rutile.

We design the processing flowchart as below:

1). Use sand pump feed material directly to spiral separator. If there are some bigger stones in deep areas, can consider use trommel screen to separate out particles +2mm
2). Spiral separator: use two-stages spiral separator, first stage is for rough concentration, the middling from first-stage will go to second-stage to concentrate again to get high recovery ratio.
3). After two stages spirals working, it get heavy minerals concentrates. Then, firstly use our factory special designed four rollers wet magnetic separator to get high grade iron ore and titanium ore, and also separate out monazite ore and other weak magnetic ore.
4). Zircon and rutile other non-magnetic minerals goes to shaking table for concentration, also use two stages shaking table for getting higher concentration effect.
5). after the electrostatic separator, can get rutile and other minerals, maybe still including some magnetic minerals, so use a high intensity dry process magnetic separator to remove the magnetic minerals again, the zircon will be more high grade up to 66% for sale a good price.

We design different process flowchart depends on customer's actual mining condition.



Some hot selling equipments details as below,

1). Spiral Separator (Spiral Chute)
Usage:
1. Rutile, ilmenite and zircon concentration
2. Iron ore, chromite and manganese beneficiation
3. Tin, tantalum and ore concentration
4. Gold, native copper and base metal recovery
5. Silica sands processing
6. Titano-magnetite concentration

Feature & Benefits:
Reasonable structure and small occupation area
High recovery, high efficiency, and precise separation,
Light in weight, rust and corrosion resistant;
Simple installation and Minimal maintenance requirements
Low operating cost and long operating life
Reliable running with minimal operator attention
Strong adaptability to fluctuation of feeding amount, density, size and grade;

Specification of Spiral Separator
Model
5LL-1500
5LL-1200
5LL-900
5LL-600
5LL-400
Outside dia(mm)
1500
1200
900
600
400
pitch(mm)
540,720
900,720,540
675,540,405
450,360,270
240,180
Pitch Dia Ratio
0.75,0.6,0.45
0.75,0.6,0.45
0.75,0.6,0.45
0.75,0.6,0.45
0.6,0.45
Lateral slope
9°
9°
9°
9°
9°
Maximum starts per column
4-2
4-2
4-2
3-2
2-1
Max Feeding Size(mm)
3
3
3
3
3
Feeding Density(%)
25-55
25-55
25-55
25-55
25-55
Capacity(T/H)
8-6
4-6
2-3
0.8-1.2
0.15-0.2
External
Size
Length(mm)
1560
1360
1060
700
460
Width(mm)
1560
1360
1060
700
460
Height(mm)
5230
5230
4000
2600
1500
Weight (Kg)
800
600
400
150
50
Our company & Customers Visiting

Ganzhou Gelin Mining Machinery Co., Ltd is an expert manufacturer of mining machines in China. Our company is located in Guzhang Industrial Zone, Shicheng county, Jiangxi province, covering an area of over 30000 square meters, having more than 30 sets of heavy processing equipment and with an annual outpurt of more than 2000 sets of mining machinery.
--- PRE-SALE SERVICE ---
1.Based on clients' request and budget, GELIN experts will strictly make efficient, reliable solutions accordingly;
2.Mine sample testing is available, we welcome the customer send the sample to you for testing by courier, or, the customer take the sample to our factory for testing;
3. Design and provide the complete processing flowchart;
4. Design & manufacturer products according to clients' demands.

--- AFTER-SALE SERVICE ---
1.Pre-check and test the products before delivery;
2.Deliver the whole plant design for our clients which including infrastructure, electrical system and pipeline system design;
3.Trace the status of the shipping until the products received;
4.Prepare required documents to let clients pass custom clearance;
5.Dispatch experts to carry out below service on site:
1) Installation & debug of the machinery
2) Train the first-line operators & technical personnel
3) Carry out any other service clients may need
6. Provide technical exchanging & spare parts for life-long term

--- ONE STOP SOLUTION ---
1.Starting by running the mineral beneficiation experiment. To provide our clients with the best solution accordingly;
2.Besides supply the flowchart design & equipment, we also provide the infrastructure design; Electrical & pipeline system design, etc. To help our clients complete the design of the whole plant;
3.After the installation, debugging of the equipment, the official production will also be guiding by our experienced engineers on site, to guarantee the output minerals perfectly meet your demands.

FAQ
Q: What Information should customers give to us in order to let we provide you with efficient & suitable quotation and assistance.
A:1). What type is the mining? Is it rock stone? or it is sand?
2). If rock stone,What is the general particle size(mm) of the raw ore?
3). What is the handling capacity(tons per hour) you plan to work with?
4).What is the elements of the raw ore? How much percent % of each minerals?
Q: Can we send the mineral samples to your company, let your company run the ore-dressing experiments test for us?
A: Yes, we can run the ore-dressing experiments for our customers. After the test, we will based on the results to give you the reasonable flowchart, suitable solution and equipments selection. etc.
Q: How long is the warrenty of your equipments? Does your company supply the spare parts?
A: The warranty period of Gelin equipments is one year. And of course we will supply the spare parts for you for life-long time at lowest cost.
Q: If i need the complete mineral processing line. is Gelin able to help us build it?
A: Yes, we can help you combine a complete mineral processing line. and give you related professional advices as long as you need.
There is a rich experience engineer team of us. we had already build many mining projects in China & Overseas. You can believe our quality and service.
Welcome to visit our factory in your free time