ZG type Horizontal Sand gravel Pump Specification :
MODEL
CLEAR WATER PERFORMANCE
MAX.
POWER (KW)
Capacity (m3/ h)
HEAD
(m)
SPEED
(r/min)
MAX.
Effi %
NPSH (m)
Max Particle Size (mm)
ZG-4D

60

200

23

1000

57

3

82

ZG-6E

120

400

28

1200

58

4

127

ZG-8F

260

700

29

800

63

4.5

178

ZG-10G

600

1000

26

600

67

3

210

ZG-12G

600

1836

31

500

79

4.5

104

ZGH-8S

560

850

52

800

68

4

180

ZGH-10G

600

1450

52

600

70

6

210

ZGH-14TU

1200

2450

50

450

70

5

230
ZG type Horizontal Sand Gravel Pump Introduction:
1.
Sand Gravel pump
(dredge pump)
is designed as
single casing connected by means of clamp bands and wide wet-passage.
2. The wearing parts are made of ultra chromium abrasion-resistance alloys, long service life and very low failure rate.
3. The pumps are designed for continuously transferring strong corrosive big-solid -contained slurry which the
common slurry pump cannot transfer. They are widely used in dredging,sand excavation;mining,
explosive-sludge in metal melting, etc.
4. ZIDONG ZG series sand gravel pump is often installed on cutter suction dredger or barge.
5. Gravel pump outlet direction can be in any position of 360· This type of pump possesses the advantages
of easy installation and operation, good performance of NPSH and abrasion resistance.
6. The pump have non-clogging wide flow channel and thick volute and high efficiency closed impeller.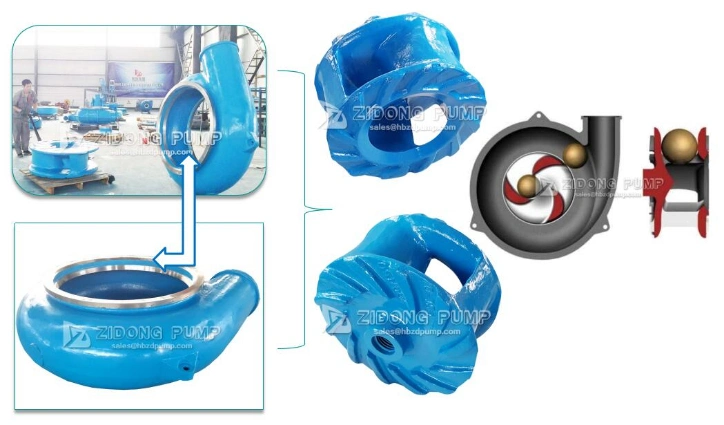 ZG Sand gravel Pump Features:
1.
Easy to Disassembly and Installation, Convenient Maintenance
2. Good Performance on NPSH
3. Good Wear-resistant Performance, Long Service Time of Wet Parts:
4. Reliable Shaft Sealing Without Leakage.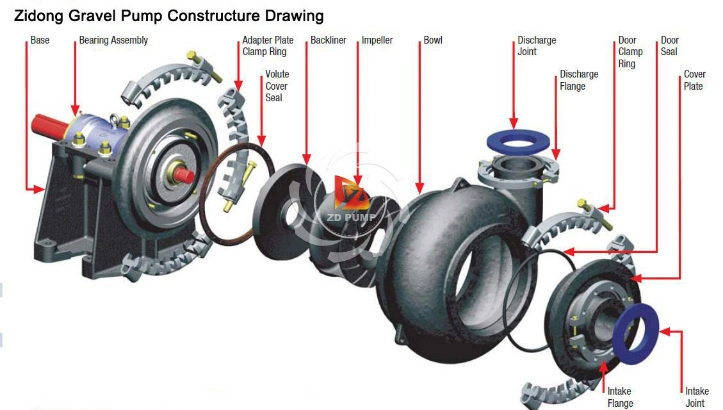 Sand Gravel Pump Parts Material:
NO.

VOLUTE

IMPELLERS

BASE

EXPELLER

EXPELLER RING

SHAFT SLEEVE

SEALS

Standard

High Chrome Alloy

High Chrome Alloy

Cast Iron

Chrome Alloy
or SG Iron

Chrome Alloy
or SG Iron

SG Iron

Natural Rubber

Options

SG Iron

SG Iron

Mild Steel
Fabricated

SG Iron

SG Iron

EN56C
Ferralium
Hasteloy C
Ceramic
Stellite
Chrome Oxide

Nordel
Neoprene
Viton
Butyl
EPDM
Sand Pump Typical Application:
Zidong ZG Series sand gravel pumps are designed to handle abrasive and large particles for gravel and dredging operations.
ZIDONG sand gravel pumps are designed for the continuous handling of the most difficult higher abrasive slurries,
containing solids too large to be pumped by a standard slurry pump.Such as :
Suction Hopper Dredging / Cutter suction Dredger / Constructional Material / Sand gravel processing /
Sand washing /Desanders/ Barge Loading/ Sand Reclamation / Land reclamation / Island building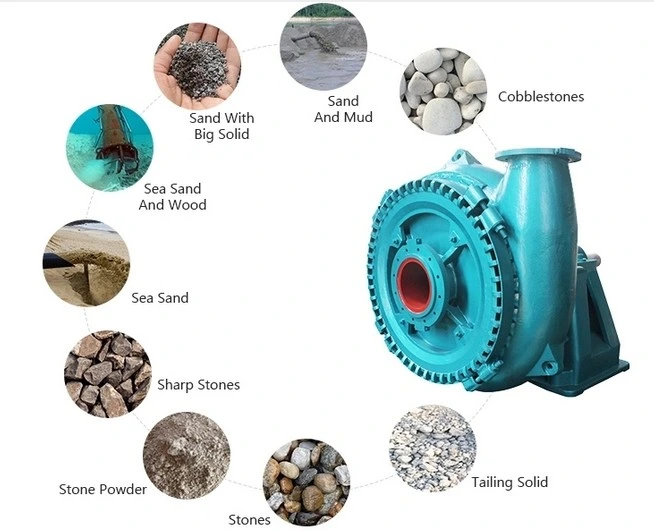 FAQ :
A: What kind of company you are?


Q: We are centrifugal pump manufacturer located in ShiJiazhuang city,Hebei province,China, with more than
20years experiences. We were gaining good reputation among our customers for our professional,
warm and thoughtful service. Because we know that a long terms business is based on Quality + price + Packing +
delivery + after sale service ,etc.



A: What's the quality assurance you provided and how do you control quality?


Q: Established a procedure to check products at all stages of the manufacturing process: Casting, Heat treatment,
Machining, Assembly, and Testing. We strictly following instructions of ISO9001 quality management systerm to
make sure each parts are good quality under controlled.And also we welcome 3rd party inspections.



Q: What's your MOQ?


A: MOQ is 1 set as trial order.



Q: What are your payment terms?


A: T/T, L/C, West Union, Paypal,etc.



Q: How about the warranty?


A: One year warranty for the whole set pumps.



Q: What is the delivery time?


A: 10-20days according to customer quantities.



Q: Can you do OEM service?


A: Yes, OEM is Welcome.
For more details on

High efficiency horizontal fine sand suction coarse sand dredging pump,
welcome contact us directly.
You can tell us your required parameters, then we will help you choose a suitable model.
Such as the pump flow rate (water and sand mixtures),and pump discharge head,etc.