Heavy Duty High Pressure Centrifugal Coal Washing Pump/Sand Washing Pump
HS (R)Series Introduction:
HS(R)
pump is horizontal centrifugal
heavy duty slurry pump and it is designed for the continuous pumping of high abrasive, high density slurries with minimal maintenance requirements. It will maintain high efficiency over the wear life of its components. The rubber and metal lined pumps feature casings which are radially split into two halves. Minimum casing bolts reduce maintenance and minimise downtime. The pumps of HS can be installed as multi-stage series.
Application:
HS(R) series slurry pump is widely used in metallurgy, mining, mineral processing, dredging, de-watering, water treatment, coal washing, mill, cyclone feed, tailing, power, building material...etc.
various industrial sites. HS pumps are called different names for different working duties: Mineral processing pump, Mill discharge slurry Pump, Booster pump, Feeding pump, Tailing pump,Transfer pump Thickner Underflow Pump, De-watering screen pump, Pressure pump, Concentrate pump...
Features:
1.Replaceable wear-resistant metal or rubber liners and impellers, long service life time.
2. Easy to adjust the space between impeller and front liner and can be removed completely when maintaining.
3.Bearing assembly use grease lubrication.
4. Seal types: packing seal, expeller seal and mechanical seal.
5. Discharge direction can be installed at intervals of 45 degrees as request and oriented to any eight positions to suit applications.
6. Drive types: V belt drive, gear reducer drive, fluid coupling drive, and frequency conversion drive devices.
7. Wide application, good NPSH and high efficiency. The series pump can be installed in multistage to meet the delivery for long distance.
Specification :
D:25 mm to 450 mm
Q: to 5,000 m3/hr
H: to 73 m
Pump Structure: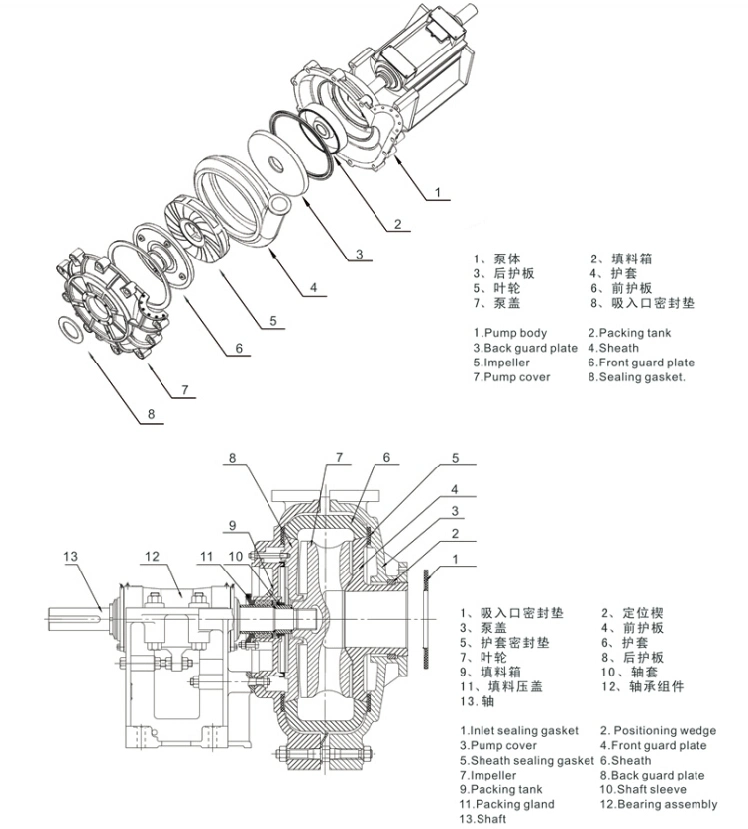 Performance Sheet:



Pump




Model

Allowable




Max. Power(KW)

Clear Water Performance

Capacity Q

Head




H(m)

Speed




n(r/min)

Max.Eff.




η%

NPSH




(m)

Impeller




Dia.

m

3

/h

l/s

25HS-B

15

12.6-28.8

3.5-8

6-68

1200-3800

40

2-4

152

25HSR-B

15

10.8-25.2

3-7

7-52

1400-3400

35

25HHS-C

30

16.2-34.2

4.5-9.5

25-92

1400-2200

20

2-5.5

330

40HS-B

15

32.4-72

9-20

6-58

1200-3200

45

3.5-8

184

40HSR-B

15

25.2-54

7-15

5.5-41

1000-2600

50

2.5-5

178

50HS-C

30

39.6-86.4

11-24

12-64

1300-2700

55

4-6

214

50HSR-C

30

36-75.6

10-21

13-39

1300-2100

2-4

213

50HHS-D

60

68.4-136.8

19-38

25-87

850-1400

47

3-7.5

457

75HS-C

30

86.4-198

24-55

9-52

1000-2200

71

4-6

245

75HS-D

60

86.4-198

24-55

9-52

1000-2200

71

4-6

245

75HSR-C

30

79.2-180

22-50

5-34.5

800-1800

59

3-5

245

75HSR-D

60

79.2-180

22-50

5-34.5

800-1800

59

3-5

245

100HS-D

60

162-360

45-100

12-56

800-1550

65

5-8

365

100HS-E

120

162-360

45-100

12-56

800-1550

65

5-8

365

100HSR-D

60

144-324

40-90

12-45

800-1350

65

3-5

365

100HSR-E

120

144-324

40-90

12-45

800-1350

65

3-5

365

100HHS-F

260

324-720

90-200

30-118

600-1000

64

3-8

711

150HS-E

120

360-828

100-230

10-61

500-1140

72

2-9

510

150HS-S

300

360-828

100-230

10-61

500-1140

72

2-9

510

150HSR-E

120

324-720

90-200

7-49

400-1000

65

5-10

510

150HSR-R

300

324-720

90-200

7-49

400-1000

65

5-10

510

150HHS-S

560

468-1008

130-280

20-94

500-1000

65

4-12

711

200HS-ST

560

612-1368

170-380

11-61

400-850

71

4-10

686

200HSR-ST

560

540-1188

200-450

7-45

300-650

80

2.5-7.5

686

200MS-E

120

540-1440

150-400

14-60

600-1000

73

4-10

549

200MS-R

300

540-1440

150-400

14-60

600-1000

73

4-10

549

250HS-ST

560

936-1980

260-550

7-68

300-800

82

6

762

250HSR-ST

560

720-1620

320-700

13-14

300-500

79

3-8

762

300HS-ST

560

1260-2772

350-770

13-63

300-600

77

3-10

965

300HSR-ST

560

1152-2520

380-850

11-63

250-550

79

4-10

965

350HS-ST

1200

1368-3060

380-850

11-63

250-550

79

4-10

1067

400HS-TU

1200

2160-5054

600-1400

8-66

200-500

80

4.5-9

1245

450HS-TU

1200

2520-5400

700-1500

13-57

200-400

85

5-10

1370