6 Inch Drilling Rig Centrifugal Slurry Pump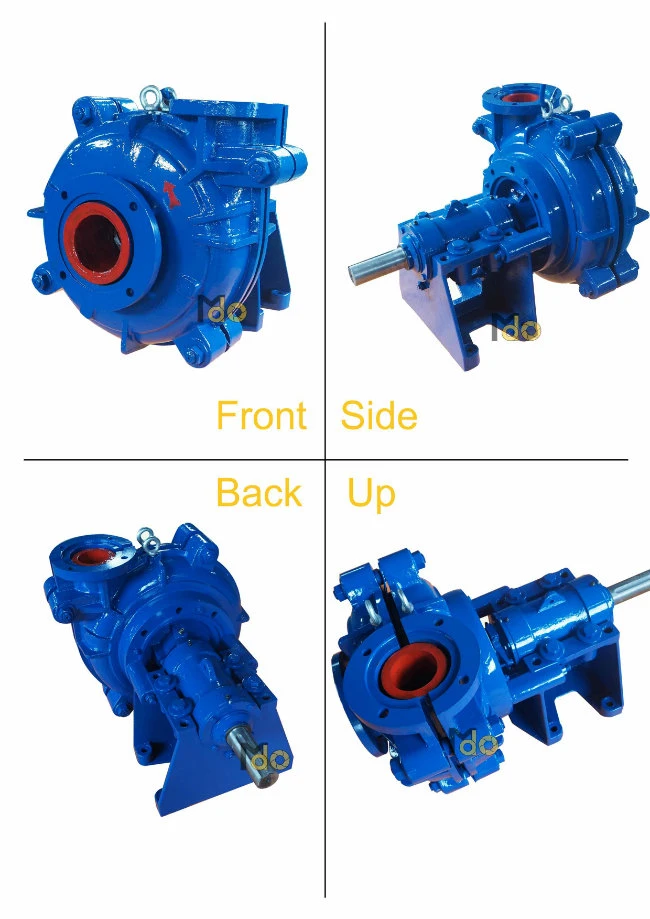 Characteristics
| | | |
| --- | --- | --- |
| ·Type: | ·Media: | ·Application: |
| centrifugal | slurry | macerator |
| ·Other characteristics: | ·Flow rate: | ·Pressure |
| horizontal | Min.:0m3/h | Min.: 0Pa |
| | Max.: 5000m3/h | Max.: 2020000Pa |
| ·Head | | |
| Min: 0m | | |
| Max: 73m | | |


Description

The Modo MAH series pumps are cantilevered, horizontal centrifugal slurry pumps designed for handling abrasive, high density slurries in a wide range of applications.
MAH pumps are manufactured to be interchangeable with the most common slurry pump designs and feature a wide range of options. MAH Slurry Pumps provide rugged performance and reliability in the most demanding slurry pumping applications.


Features

Bearing assembly- large diameter shaft with short overhang contributes to long bearing life.
Liners - easily replaceable liners are bolted, not glued to the casing for positive maintenance.
Casing - casing halves of cast or ductile iron provide high operating pressure capabilities.
Impeller - front and rear shrouds have pump out vanes that reduce recirculation and seal contamination.
Throat bush - wear is reduced and maintenance simplified by the use of tapered.

Application

Transfer of abrasives and high density slurries in:
Mining
Metallurgical Processing
Civil Construction
Heavy Industry
Processing

Details

Pump Parts Material
Rubber Pump

Metal Pump

No.

Part Description

Material

Specification

No.

PartDescription

Material Specification

1

Base

Cast Iron

1

Base

Cast Iron

2

Shaft

4140 High Tensile Steel*

2

Shaft 4140

High Tensile Steel*

3

Bearing Assembly

Timken (Cast Iron Body)

3

Bearing Assembly

Timken (Cast Iron Body)

4

Shaft Sleeve

420 Stainless Steel

4

Shaft Sleeve

420 Stainless Steel

5

Pump Casing

Cast Iron

5

Pump Casing

Cast Iron

6

Frame Plate

Liner Insert Rubber

6

Frame Plate

Liner 27% Chrome White Iron

7

Cover Plate

Liner Rubber

7

Volute Liner

27% Chrome White Iron

8

Impeller

Rubber Coated High Tensile Steel

8

Impeller 27%

Chrome White Iron

9

Throat Bush

Rubber

9

Throat Bush

27% Chrome White Iron

10

Cover Plate

Cast Iron

10

Joint Rings

Rubber

11

Stuffing Box

Cast Iron

11

Cover Plate

Cast Iron

12

Expeller

27% Chrome White Iron

12

Stuffing Box

Cast Iron

13

Expeller

Ring Natural Rubber

13

Expeller

27% Chrome White Iron

14

Bolts

Zinc Plated Steel

14

Expeller Ring

Natural Rubber

15

O-rings

Nitrile Rubber

15

Bolts

Zinc Plated Steel

16

Seals

Rubber

16

O-rings

Nitrile Rubber

17

Seals

Rubber
FAQ

A: What kind of company you are?
Q: We are centrifugal pump manufacture located in Boy Town, Baoding, China, with more than 20years experiences. We were gaining good reputation among our customers for our professional, warm and thoughtful service. Because we know that a long terms business based on the quality control, price, packing, delivery time etc.

A: What's the quality assurance you provided and how do you control quality?
Q: Established a procedure to check products at all stages of the manufacturing process: Casting, Heat treatment, Machining, Assembly, and Testing.



Q: Can you install the motor or diesel engine with the pump for us?




A: yes, we can, it's no problem, and we are experienced in this.





Q: What's your MOQ?




A: Trial sample order is OK.



Q: What are your payment terms?
A: T/T, L/C, D/P, D/A......



Q: What certificates do you have?




A: CE, ISO 2008, UL.....





Q: How about the warranty?




A: One year warranty for pumps, it depends on other pump working condition details.





Q: What is the delivery time?




A: 15-30 days according to customer quantities.





Q: Can you do OEM brand?




A: Yes, Welcome.





Q: What information should I offer to get pump solution?


1, Material:
2, Head: m
3, Flow: m3/h
4, Medium size: mm
5, Particle shape (smooth or sharp):
6, Medium pH level:
7, Temperature:
8, Drive type:
9. Power supply: