GRS recycled polyester felt waterproof nonwoven fabric for flooring
Basic Information

Material

100% reycled polyester+anti slip backing

Tehnique

Needlepunch Nonwoven

Type

soft, medium, hard

Width

50-226cm

Length

cusotmized

Weight

550gsm

Thickness

5mm

Color

Black, dark grey, letc.

Application

trunk mat, garage mat, anti slip mat , etc,

Advantage

HIGH TECH: The Floor Protector is made with high tech materials including an impermeable membrane. Nothing will leak through

NO MORE STAINS: Tired of oil, gasoline, coolant, fluids, dirt, and grime all over your garage or shop floor? Say goodbye to the mess when you use a Floor Protector

EASY TO INSTALL: Make sure your floor is already clean, then lay down your floor protector! You may notice wrinkles in the protector - over time, those go away

USE UNDER ANY VEHICLE: The Floor Protector is perfect for cars, ATV's, Golf Carts, Motorcycles, and any other recreational vehicle

MULTI-USE: Not just for automotive! Put the floor protector under your garbage cans, appliances, gardening tools, lawn mowers, and so much more

Photo Show











Application Show
































Exceeding Company manufactures a varied product range of needlepunched non woven and substrate materials for different application fields.
Our products are packaged in various forms as per customer requirements including rolls and customized sheets as OEM's request.

Name: Shandong Exceeding Auto Interior Parts CO.,LTD
Main area: Tier 2 OEM materials supplier for automotive industry
Quality System& Certificate: IATF 16949:2016, GRS, Reach, ROHS, VCA,etc.
The main materials are including:
*PPGF(GMT, LWRT) Sheet-composite panel
*Woodstock sheet
*PP/EVA/EPDM sheet
*plain needlepunch nonwoven fabric
*velour nonwoven
*PET felt
*PE Film/powder composite nonwoven
*Special functional nonwoven-flame retardant, water-resistant nonwoven

*GRS certificated recycled polyester RPET Felt
*Other materials

Main Application fields:

automotive interior and exterior parts
* Headliner
* Wall side panel
*Auto Floor carpet
*Package tray
*Trunk lid cover
*Trunk side trim
*Underbody shield
*Door liner
*Seating back
*Wheel arch liner
*Pillar
*Lining
*Other parts

Construction:
*flooring
*underlay
*waterproof

Home decoration:

* wall, ceiling decoration--sound insulation felt panel
* wall cloth
* furniture protection

Thermoforming products:

* Thermoforming auto interior parts
* RPET Felt chair
* RPET Felt lamp shade
* RPET Felt storage basket/bag/bin/tray
* other thermoforming RPET Felt products

Other applications:
* Shoes, mask, industy, etc.
* Special function: water-resistant, waterproof, fire resistant, sound insulaiton, anti- scratch, etc.

Main customers:
Denso, Magna, Faurecia, Thor, Jayco, Higer, etc.
Target, etc.

Main Products Show:
Basic Information

Material

polyester, polypropylene, bi-component fiber, etc,

Tehnique

Needlepunch Nonwoven, Composite

Type

Plain, Velour, Velour+ PET felt, Velour +PE, Velour +PE+ Felt, Velour+PE+Felt+PE, Plain+ Felt, Plain+PE+Felt, Plain+EVA/PP+Felt, etc

Width

50-220cm

Length

cusotmized

Weight

50-3000gsm

Thickness

0.2-15mm

Color

Black, dark grey, light grey, beige, etc.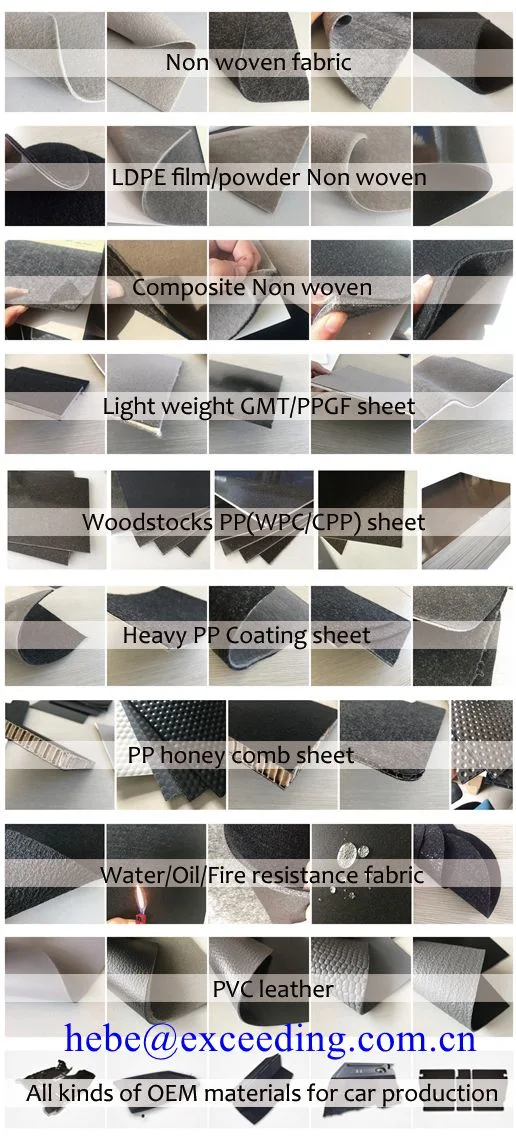 Main Application Show: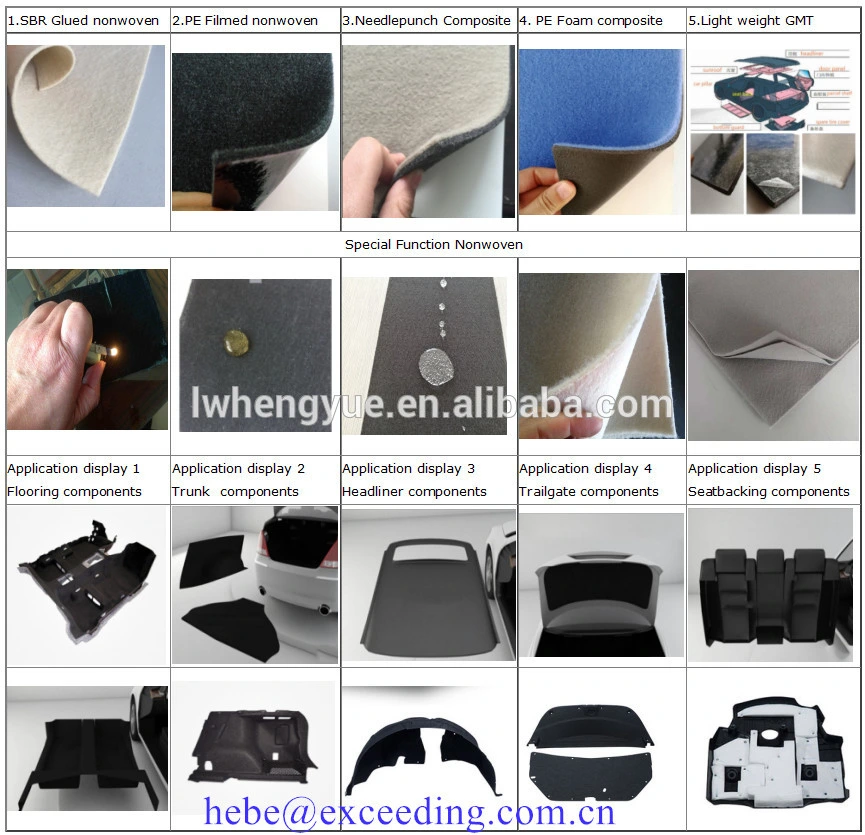 Factory Show: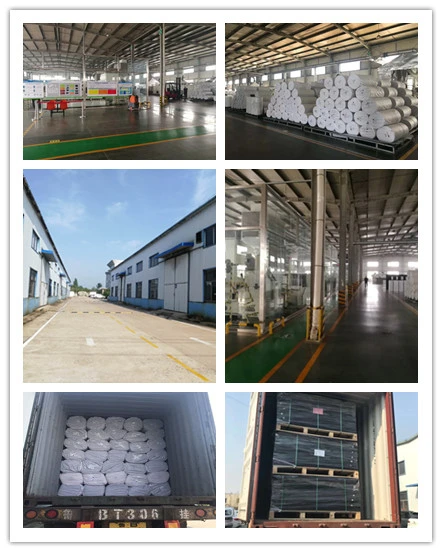 Contact US: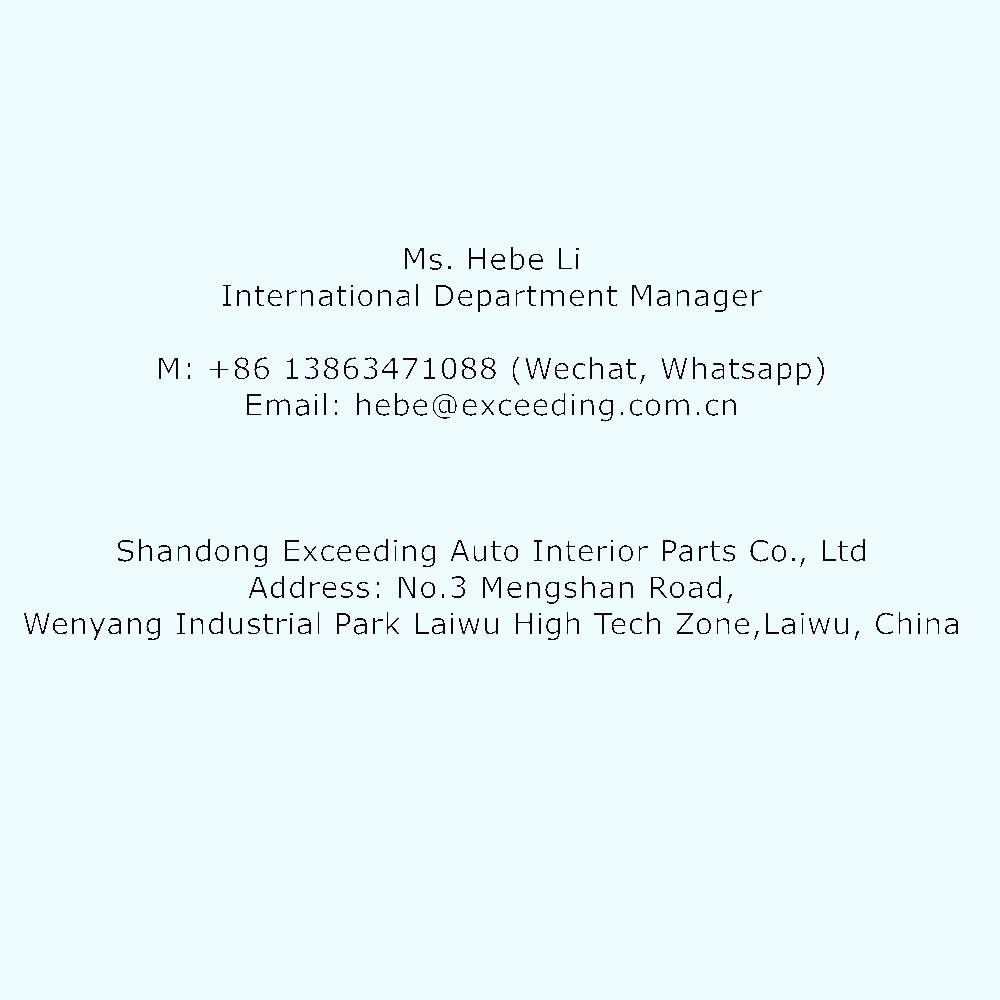 Ms. Hebe Li
International Department Manager



Shandong Exceeding Auto Interior Parts Co., Ltd
Address:No.3 Mengshan Road, Wenyang Industrial Park Laiwu High Tech Zone,
Jinan City, Shandong, China