Mainly used for continuous conveying of highly abrasive materials that are too large to be conveyed by ordinary slurry pumps. It is suitable for dredging, absorbing gravel, dredging river channels, mining and metal smelting explosion slag transportation, etc.
1. G series pumps are all horizontal centrifugal pumps with single pump casing structure.
2. The pump has a wide flow channel, good cavitation performance, high efficiency and abrasion resistance
3. The shaft seal of the pump includes packing seal, impeller seal and mechanical seal.
4. The flow parts are made of high-hardness wear-resistant alloy cast iron.
5. The bearing assembly of the pump adopts a cylindrical structure, which is convenient to adjust the gap between the impeller and the pump body, and can be removed as a whole during maintenance. The bearings are lubricated with grease.
6. A special clamp is used to clamp the pump body and pump cover. The direction of the pump outlet can be at any position of 360 degrees, which is easy to install and use.
7. The transmission modes mainly include V-belt transmission, elastic coupling transmission, gear reduction box transmission, hydraulic coupling transmission, frequency conversion drive device, etc.
8. The use of multiple speeds and multiple variants makes the pump run under the best conditions. It has a long service life and high operating efficiency, and can meet many types of harsh transportation conditions.
9.gH pump is high head pump.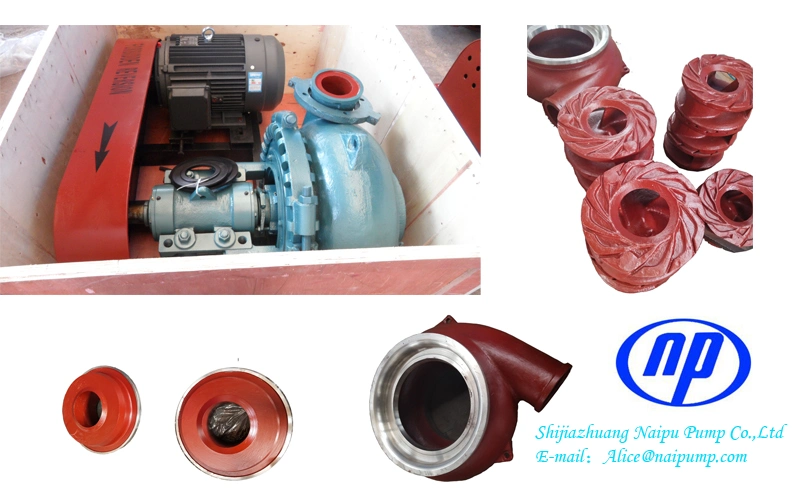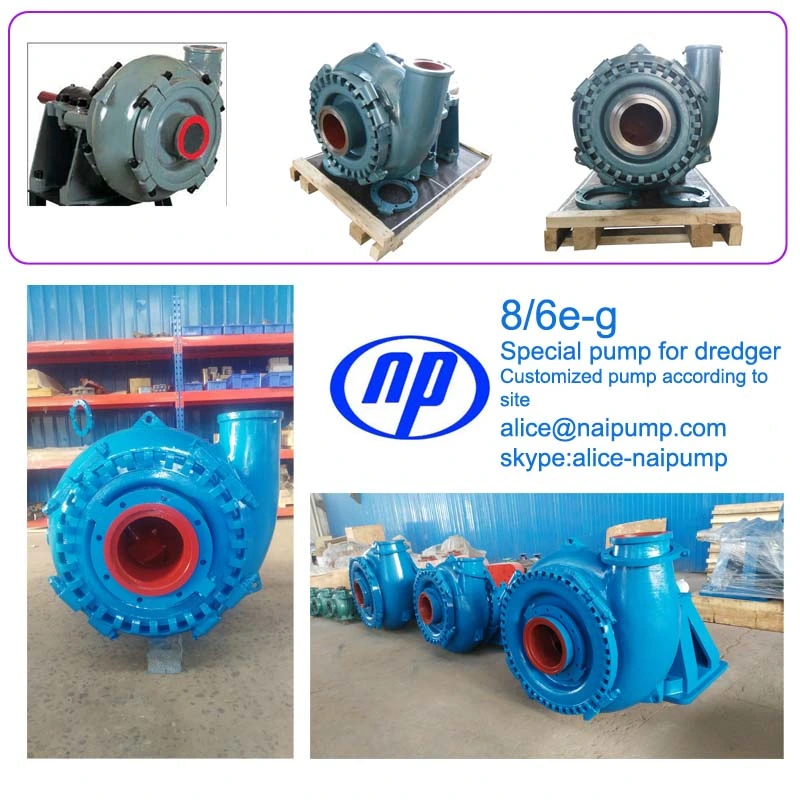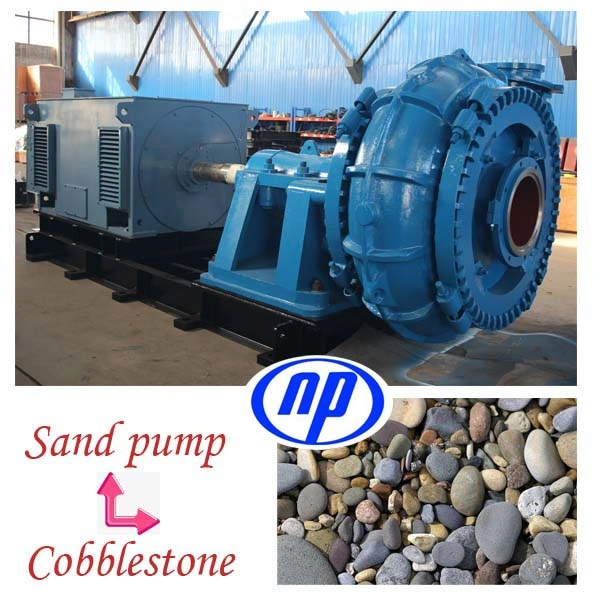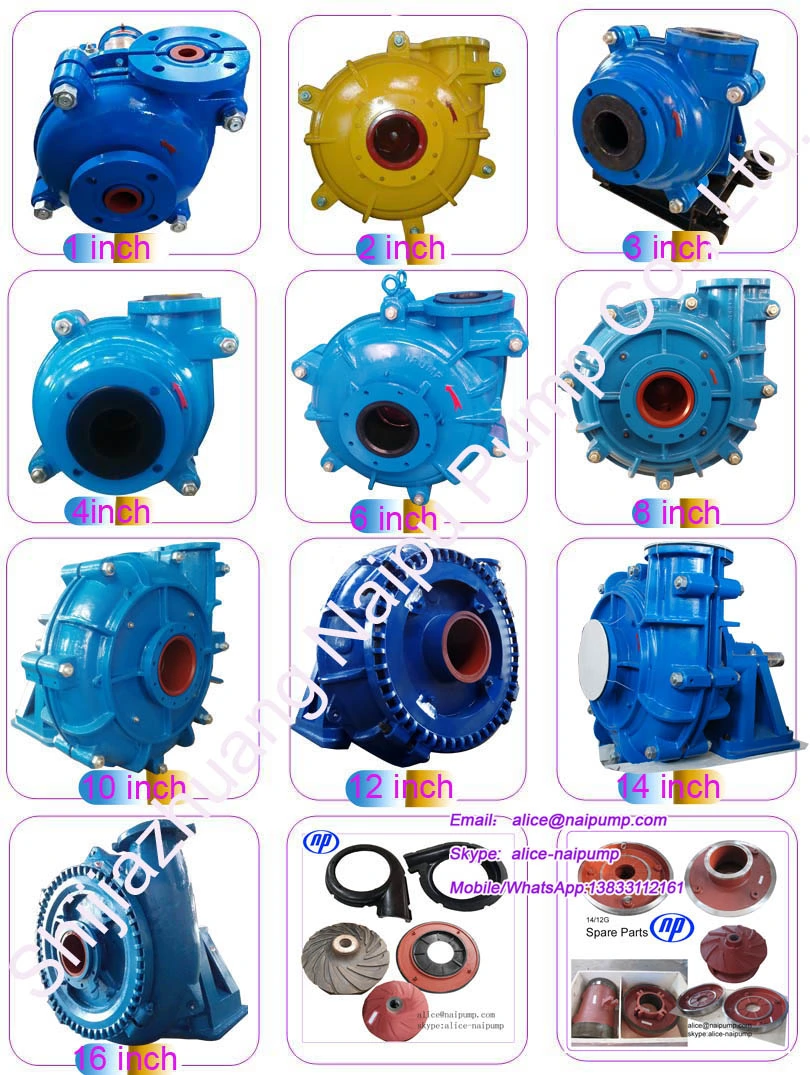 Faults

Reasons

Removal

Pump fails to

discharge any liquid.

Air leaking into suction or gland.

Incorrect direction of pump rotation &impeller worn..

Suction pipe blocked.

Sealed leakage.

Check direction of rotation and replacing impeller.

Removal blockage.

Shaft power consumption is

excessive.

Gland excessively tightened against packing rings.

Rotating component rubbing on a stationary part.

Bearings worn.

Drive belt tension too tight.

Flow rate too large.

Pump speed & ratio too high.

Misalignment or unparallel of drive shaft and pump shaft.

Loosen gland bolts

Removal the rubbed part.

Replace the bearing

Adjusting belt.

Modifying the pump duty and speed.

Adjusting drive&pump shaft.

Bearing is over heating

Lubrications too much or less

Containing impurities in the lubricant.

Bearing worn.

Lubricating as requirements.

Replace new lubricant.

Replace new bearing.

Beraing has short life

Misalignment or unparallel of drive and pump shaft.

Shaft bent.

Impeller unbalanced due to wear.

Foreign object entered into the

Bearing or insufficient lubrication.

Incorrect procedure followed in fitting bearings.

Adjusting drive and pump shaft.

Replacing shaft.

Remove rubbing and Replacing new impeller.

Clean the bearing

Replacing or refitting the bearings.

Excessive leakage from stuffing box

Packing rings excessive worn.

Shaft sleeve worn

Dirty sealing water.

Replace new packing rings.

Replace shaft sleeve

Change clean sealing water.

Pump vibrates or is noisy

Bearings worn.

Impeller unbalanced.

Air entered into suction pipe or blocked.

Flow rate non-uniform and pump not primed.

Replaced by new bearings.

Replaced by new impeller.

Discharge air and remove block..

Improve on the pump feeding.
Naipu Main Products
We can develop and produce a range of pumps according to different media situation to meet different duty requirment.
There are rubber material (R08. R12.r 26. R33. R38. R 55.S03.S12.S31.S21.S51.S52 U01 and etc). Wear resistant metal material( a 05.A07.A33. a 49. A61 and etc) .Corrosion Resistant stainless steel material (201.304.316. 316lL and etc). fully meet customers' request.
We can undertake various OEM orders for pumps as well as spare parts customized according to drawings or samples