Centrifugal Heavy Duty Mining Slurry Pump


Mining Slurry Pump Coal Mine Sand Pump Dredging Mud Pump For Heavy Duty
Depon MAH

series pumps are heavy duty horizontal slurry pumps designed to handle the transfer of abraisive and high density slurries in minging and heavy industry.
All Depon MAH slurry pumps are designed to be interchangeable with the most common slurry pump footprints used by the mining industry.
MAH pumps are manufactured using the highest quality materials to ensure reliability and extended service life in heavy duty applications.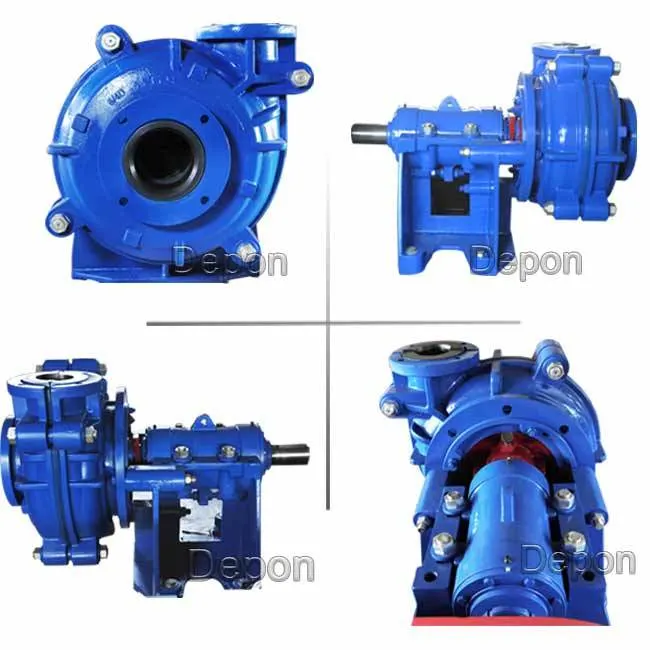 Technical Data
| | |
| --- | --- |
| Usage | Slurry, sewage and water |
| Capacity | 0- 3600m³/h |
| Head | 0-112m |
| Speed | up to 3200r/min |
| Inlet/ouetlet Size | DN25mm-DN350mm |
| Max Temperature | 110ºC |
| Drive | Electric or diesel |
Features:
1. Bearing assembly: large diameter shaft with short overhang contributes to long bearing life.
2. Liners: Easily replaceable liners are bolted, not glued to the casing for positive maintenance.
3. Casing: Casing halves of cast or ductile iron provide high operating pressure capabilities.
4. Impeller: Front and rear shrouds have pump out vanes that reduce recirculation and seal contamination.
5. Throatbush: Wear is reduced and maintenance simplified by the use of tapered.

Selection Chart and Performance

TYPE

Allowable




Mating




Max.




power(KW)

Material

Clear Water Performance

Impeller

Liner

Impeller

Capacity

Head(H)

Speed(n)

Max.Eff

NPSH

No.of Vanes

Impeller




Dia.

(m3/h)

(L/s)

(m)

(r/min)

(%)

(m)

(mm)

1.5/1B-MAH

15

M

M

12.6-28.8

3.5-8

6-68

1200-3800

40

2-4

5

152

RU

RU

10.8-25.2

3-7

7-52

1400-3400

35

3

1.5/1C-MHH

30

M

M

16.2-34.2

4.5-9.5

25-92

1400-2200

20

2-5.5

5

330

2/1.5B-MAH

15

M

M

32.4-72

9-20

6-58

1200-3200

45

3.5-8

5

184

RU

RU

25.2-54

7-15

5.5-41

1000-2600

50

2.5-5

5

178

3/2C-MAH

30

M

M

39.6-86.4

11-24

12-64

1300-2700

55

4-6

5

214

RU

RU

36-75.6

10-21

13-46

1300-2300

60

2-4

5

213

3/2D-MHH

60

M

M

68.4-136.8

19-38

25-87

850-1400

47

3-7.5

5

457

4/3C-MAH

30

M

M

86.4-198

24-55

9-52

1000-2200

71

4-6

5

245

RU

RU

79.2-180

22-50

5-34.5

800-1800

59

3-5

5

4/3E-MHH

120

M

M

126-252

35-70

12-97

600-1400

50

2-5

5

508

6/4D-MAH

60

M

M

162-360

40-100

12-56

800-1500

65

5-8

5

365

RU

RU

144-324

40-90

12-45

800-1350

65

3-5

5

365

6/4S-MHH

560

M

M

324-720

90-200

30-118

600-1000

64

3-8

5

711

6S-MHH

560

M

M

468-1008

130-280

20-94

500-1000

65

4-12

5

711

8/6E-MAH

300

M

M

360-828

100-230

10-61

500-1140

72

2-9

5

510

RU

RU

324-720

90-200

7-49

400-1000

65

5-10

5

510

10/8E-MM

120

M

M

666-1440

185-400

10-60

600-1100

73

4-10

5

549

10/8ST-MAH

560

M

M

612-1368

170-380

11-61

400-850

71

4-10

5

686

RU

RU

540-1188

150-330

12-50

400-750

75

4-12

5

12-10ST-MAH

560

M

M

936-1980

260-550

7-68

300-800

82

6

5

762

RU

RU

720-1620

200-450

7-45

300-650

80

2.5-7.5

5

14/12ST-MAH

560

M

M

1260-2772

350-770

13-63

300-600

77

3-10

5

965

RU

RU

1152-2520

320-700

13-44

300-500

79

3-8

5

16/14TU-MAH

1200

M

M

1368-3060

380-850

11-63

250-550

79

4-10

5

1067

20/18TU-MAH

1200

M

M

2520-5400

700-1500

13-57

200-400

85

5-10

5

1370

Pump Parts Material
Metal Lined Pumps

Rubber Lined Pumps

Part Description

Material Specification

Part Description

Material Specification

Base

Cast Iron

Base

Cast Iron

Shaft

4140 High Tensile Steel

Shaft

4140 High Tensile Steel

Bearing Assembly

Timken(Cast Iron Body)

Bearing Assembly

Timken(Cast Iron Body)

Shaft Sleeve

420 Stainless Steel

Shaft Sleeve

420 Stainless Steel

pump Casing

Cast Iron

pump Casing

Cast Iron

Frame Plate Liner

27% Chrome White Iron

Frame Plate Liner Insert

Rubber

Volute Liner

27% Chrome White Iron

Cover Plate Liner

Rubber

Impeller

27% Chrome White Iron

Impeller

Rubber Coated High Tensile Steel

Throat Bush

27% Chrome White Iron

Throat Bush

Rubber

Joint Ring

Rubber

Cover Plate

Cast Iron

Cover Plate

Cast Iron

Stuffing Box

Cast Iron

Stuffing Box

Cast Iron

Expeller

27% Chrome White Iron

Expeller

27% Chrome White Iron

Expeller Ring

Natural Rubber

Expeller Ring

Natural Rubber

Bolts

Zinc Plated Steel

Bolts

Zinc Plated Steel

O-rings

Nitrile Rubber

O-rings

Nitrile Rubber

Seals

Rubber

Seals

Rubber