API610 BB3 Pump Construction:
1.The casing is axially split with the suction and discharge branches located in the lower half,so it allows the complete pump rotor with bearings to be removed for maintenance without disturbing the main pipework and valves.Short inspection and maintenance times
2.Impeller is symmetrically arranged.Rotor is in hydraulic balance.
3.Double volute casing reduced radial thrust and bearing loads.
4.Large branches.Low flow velocities and high forces and moments accommodated.
5.Sizes of seal champer comply with API682 specification.Seal champer is designed to accommodate all single,tandem,dual and cartridge seal configurations.Cartridge seal is standard type.
6.Replaceable wear beings prevent the main components from being worn out.
7.Generous shaft diameter,small span.Reduce shaft deflection.Increase seals and bearing life.
8.Heavy duty rotor bearings.Special stiffness design makes the bearings run reliably.
9.Flexible spacer membrane coupling.
10.Optional instrumentation to monitor temperature,pressure and ib-ration,etc.
11.Welded common baseplate with drain rim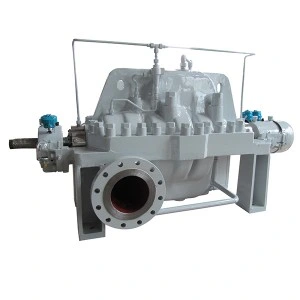 Applications:

The pumps are suitable for pumping clean liquids or liquids with soe tolerance of slight contamination by solids.They are used for pumping liquids for petrochemical process,for water supply and treatment,as marine ballast and cooling water pumps,in sea water desalination plants,for offshore duties.As well as being used for other similar usefulness.SHS pumps can also be used as energy recovery turbines.
Advantages:

1.Wide choice of hydraulic,good NPSHr performance,high efficiency,wide perfect region,power saving and low consumption.
2.Reliability:Every products is well checked before shipment.
3.Manufacture:excellent equipment,high-class staff,top-ranking products.
4.Service:rapid service,lifetime maintenance.