Jig Separator Machine Introduction
Jig concentration machine belongs to a type of energy-saving gravity separation equipment, which is developed according to the law of layer theory of jigger bed stratification, and on the basis of traditional jigger. The performance of saw-tooth Jig has reached the domestic advanced level, and is one of the ideal devices in energy-saving gravity separation.



Jig Separator Machine Spare Parts: Diaphragm & Screen, Gearbox, Adjustable speed electric motor & Speed controller




Jig Separator Machine Working Principle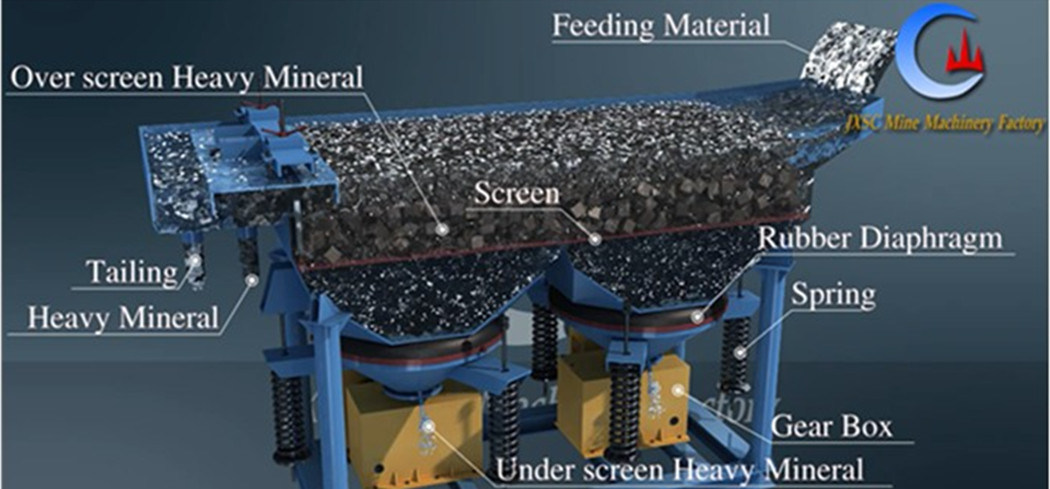 When processing the open-pit mines, the saw-tooth wave jigger is a key machine with the principle of gravity separation. Its pulse curve is like saw-tooth waveform to make rising water faster than the dropping water; enhanced the loose of bed, eased the inhaled role, so that heavy particles in the mineral can fully settlement, greatly improving the sorting capacity and recovery rate of equipment.
Jig Separator Machine Technical Parameters
Jig Separator Machine Application
JXSC jig machine is widely used in processing plant of tungsten, tin, gold, diamond, iron, titanium, iron, coltan, manganese, fluorite, chrome. It can also be used for recovery for alloy particles from manganese slag, chromites slag and stainless slag, etc.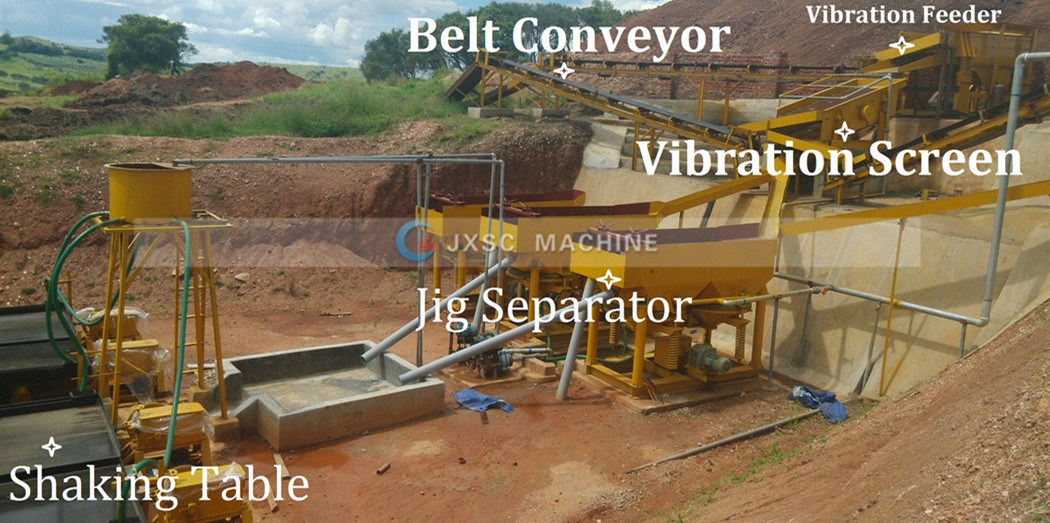 JXSC 100TPH Coltan Plant Project in Uganda
1) JXSC designed flowchart and plant layout drawing based on the coltan mine site conditions.
2) JXSC supplied hopper, feeder, trommel scrubber, vibrating screen, slurry pump, jig separator, belt conveyor, spiral chute, cone crusher, shaking table.
3) JXSC Engineer Mr. Wen services at Uganda Coltan Project mine site based on customer's request.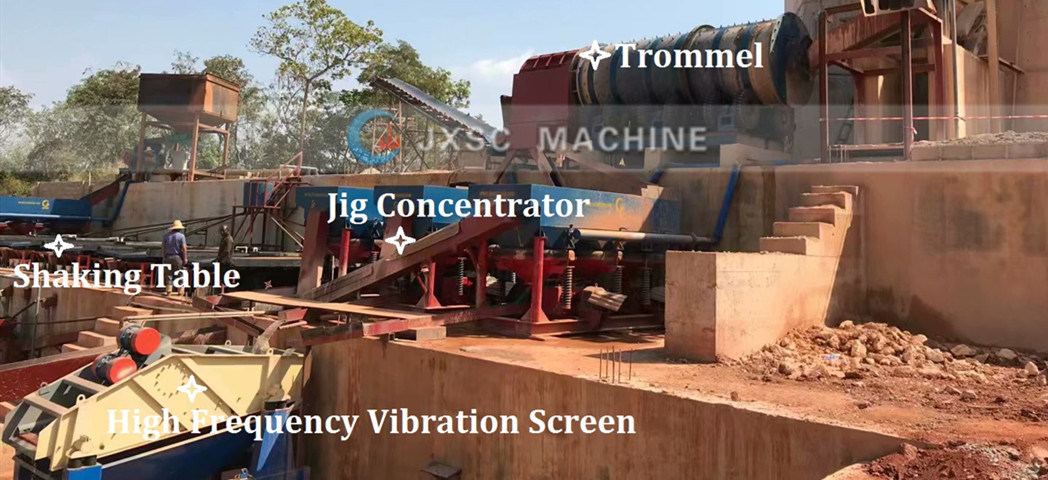 100tph Complete Set Plant Tantalum-niobium Ore Processing in Nigeria
1) JXSC supplied complete Set Plant , including Jig Separator, Trommel Scrubber Washing Machine & Shaking Table etc. for this project.
2) JXSC sent Engineer Mr. Wen services at customer's mine site to guide for installation, commission, start up and training.


Jig separator machine can be also used in the following applications:

1) To recover Finished Concentrate from ores in which the mineral grains are liberated. Recovery of minerals of various kinds that occur in Placer / Alluvial deposits, or decomposed rocks.
2) Recovery of minerals from primary/ hard rock ore, which can be liberated by crushing/ grinding process, i.e. (Diamonds, Color Gemstones, Manganese, Barite, fluorite, Gold & other precious metals, base metals, ferrous metals, light metals, coal) and heavy minerals of all kind.
3) Cobbling operation, to discard waste rock before final processing of the crude concentrate.

About us

Jiangxi Shicheng Mine Machinery Factory established in 1985,is an experienced supplier of complete set mining equipments, professional at providing complete set processing equipments for Gold ore /Tin ore /Tungsten ore /Iron ore / Diamond/ Coltan ore / Silica sand / Zircon sand/ Black sand/Chrome ore, ect. As well as complete set small lab mining machines.
The following picture shows the development history of our factory.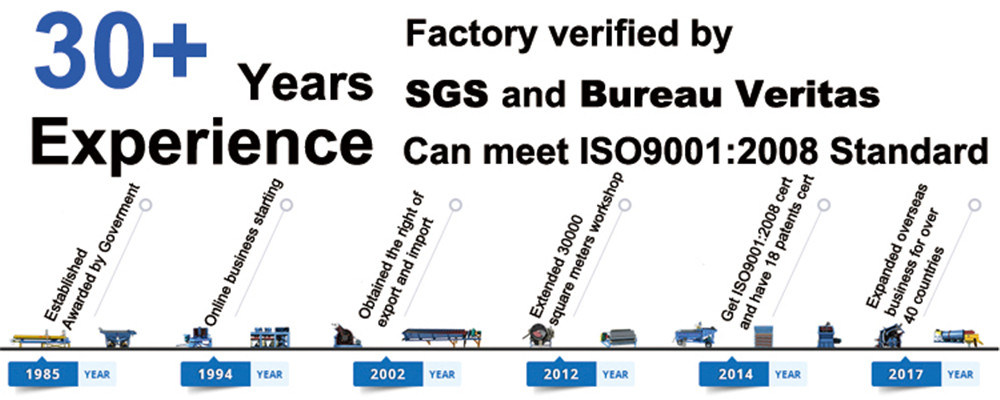 Our Advantages
1.30+ years experience of Research and development production in factory at mining machinery industry.
2.Provide professional flowchat and quotation based on your mine information.
3.Provide complete set of mineral ores processing line equipments.
4.Provide sample testing service in factory lab for free.
5.Provide professional Mining Solution Consulting.
6.Provide overseas engineer service.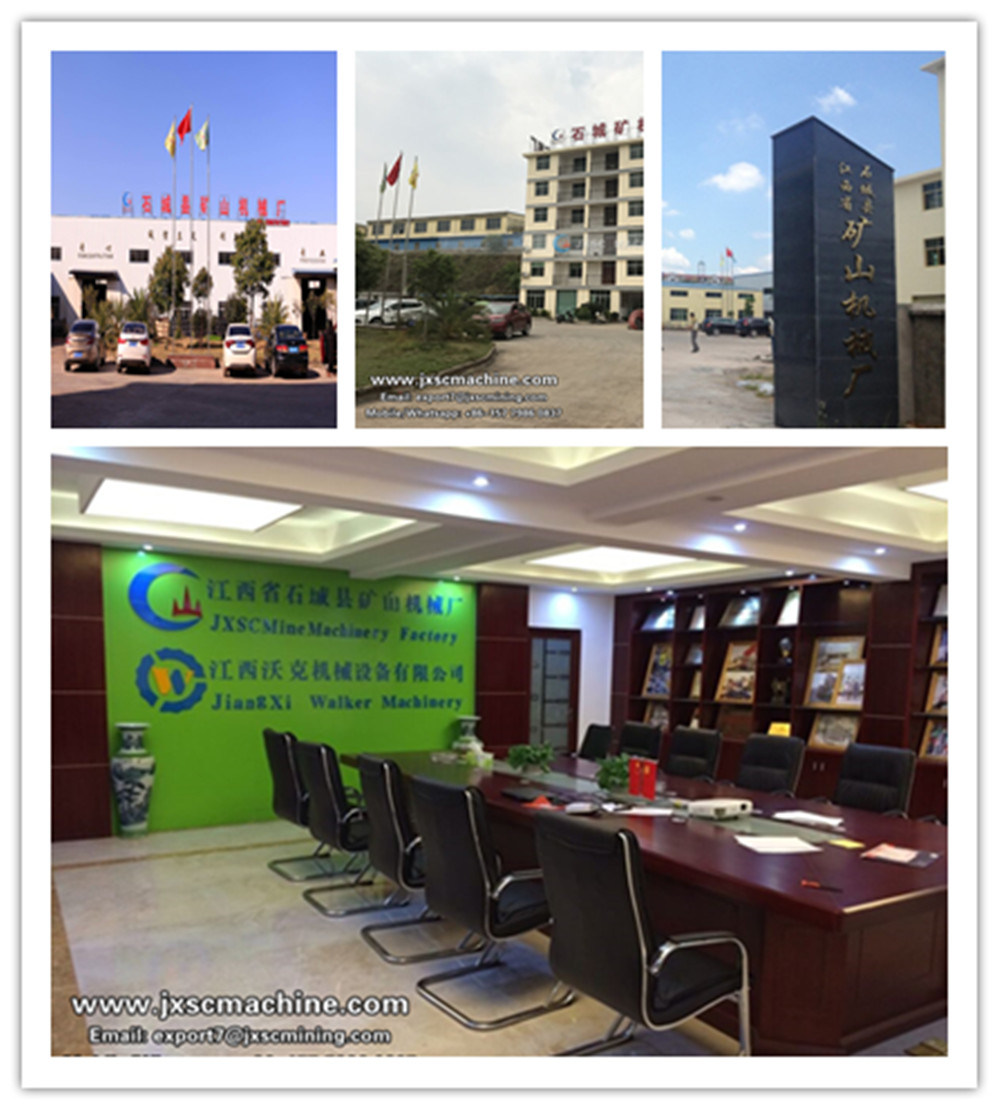 JXSC main products
Trommel screen, trommel scrubber, shaking table, spiral chute separator, jig machine, centrifugal concentrator, sluice box, vibration screen, melting furnace, jaw crusher, hammer crusher, ball mill, flotation machine, spiral classifier. as well complete set small laboratory mining equipments
JXSC main markets

Africa, South Amercia, Europe , Southeast Asia, Asia,ect. Our cooperated customers cover Mali, Ghana, Sudan , Uganda, Mozambique, Suriname, Zambia, Nigeria, Cameroon, Madagascan, Malasia, Indonesia, Korea, Philippines, Monglia, Singapore, Inida, Iran, Mexico, Brazil, Chile, Peru, Spain, Canada, Austrilia,U.S, UAE,ect.
Our Exhibitions
Every year we go abroad to participate in exhibitions.So far the exhibitions we have attended have USA Las Vegas Fair,Peru Fair,Russian Fair,Mongolian Fair,Burma Fair,Indonesia Fair,Ghana Fair,South Africa Fair,Nigeria Abuja Fair.
JXSC mine processing equipments have gone into global countries through exhibitions.We have enjoyed a good reputation in the majority of users because of excellent quality,reliable performance and professional service.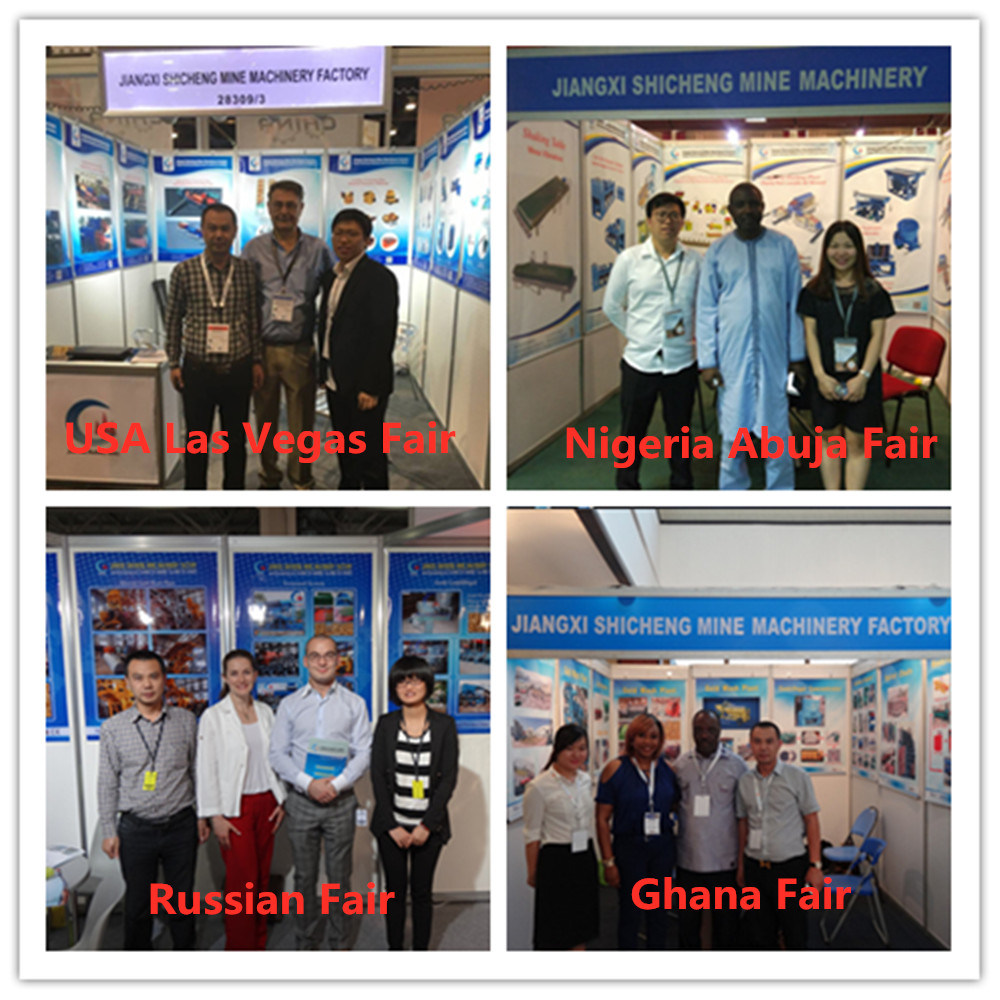 Our certificates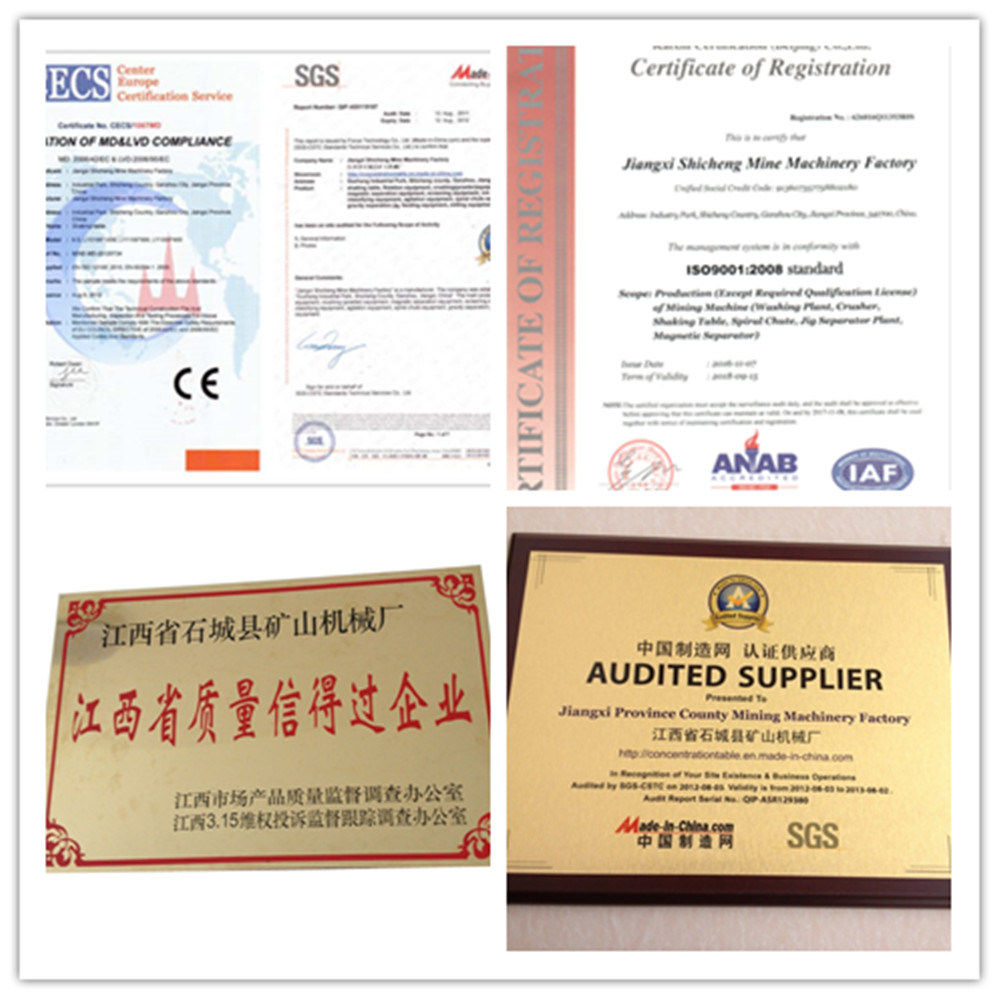 Our service
Pre-Sales Service
*Inquiry and consulting support
*Ore sample testing support
*View our Factory
*Design Flowchart
After-Sales Service
* Training how to instal the machine, training how to use the machine.
* 1 year warranty
*
Engineers available to service machinery overseas.(PLZ see the following picture)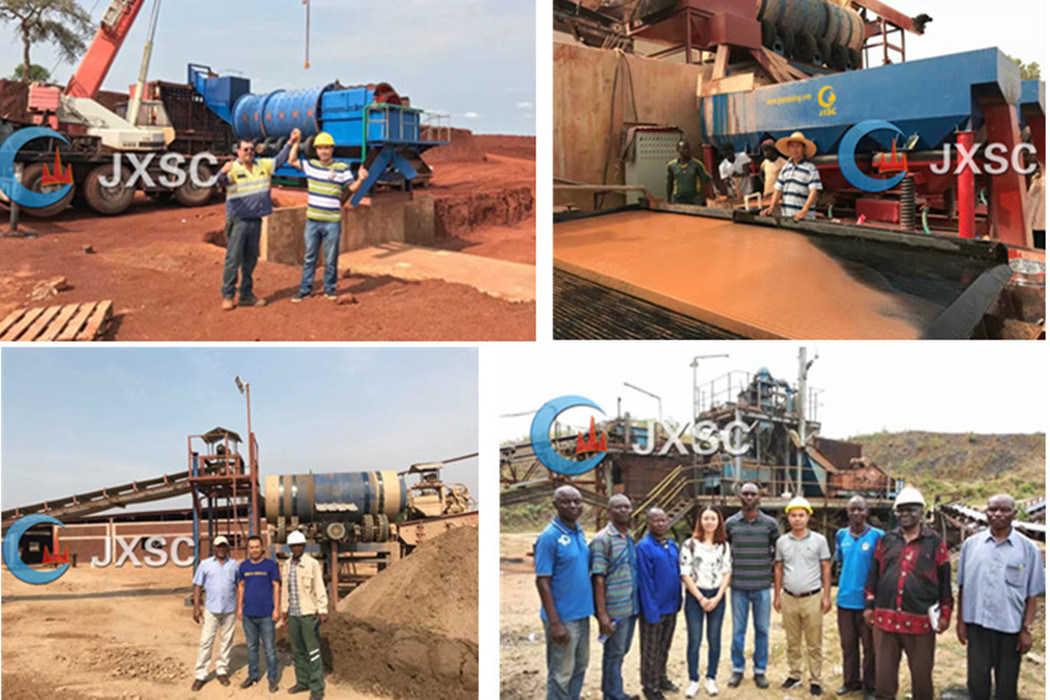 FAQ

1.How is the quality of your products? (mining equipment/machine)
Answer: Our products are manufactured strictly according to national and international standard, and we will take a test on every grinder before delivery.

2.Guaranteed?
Answer: All of our products are guaranteed for one year. If products quality is not consistent with the description as we described or the promise before you place order, we promise 100% refund.

3.How about price?
Answer: For the complete same machine, we can promise our quality is the best when the price same as other competitors, and our price can be lowest when the quality at standard level.

4.Service and Payment Terms?
Answer: We can accept T/T and L/C; 30% deposit, 70% balance before delivery, which is international trade practice; Finished product pictures will provide to customers before delivery.

Contacts

If you are interested in our products, please don't hesitate to contact us. Could you tell me the following questions, so that I can send you accurate quotation soon, including extra discounts!

1. Which machine do you need? like gold washing machine, spiral chute, vibrating screen, Jig separator, Shaking table, etc.

2. What is your raw ore that you plan to process? like gold ore, diamond ore, tantalite ore or iron ore, etc.

3. What is the capacity you need? Like 100 tones per hour.

4. What is the input size of your raw ore? and what is the output size you want?
Sincerely welcome to send your inquiry,you can get best quotation and professional service.